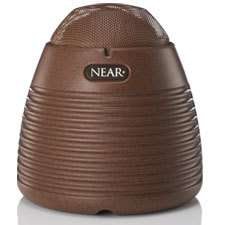 Near unveiled in-ground outdoor loudspeakers designed for residential installations.
The Near IG models can be partially buried in the ground and are omni-directional designed, which means sound is radiated evenly in a 360-degree pattern.
By partially burying the speakers, the packed earth ensures that the enclosure is resonance-free so all the acoustic energy is used to move the air rather than the enclosure walls.
Secondly, the ground acts as an infinite enclosure, which helps produce high-impact bass response.
There are three IG full-range models plus an optional in-ground 1-inch, in-ground subwoofer. All Near IG series full-range models employ Metal Diaphragm Technology woofers and inverted titanium dome tweeters.
The speakers are designed to withstand humidity, salt air, heat, cold and immersion durability standards.
IG Series Specifications
| | | | | |
| --- | --- | --- | --- | --- |
| | IG5 | IG6 | IG8 | IGS12 |
| Dimensions | 14.5″ Diameter at Base x 16.5″ High | 16″ Diameter at Base x 17.75″ High | 17.75″ Diameter at Base x 19.25″ High | 23.75″ Diameter at Base x 19.25″ High |
| Woofer | (1) 5.25″ Metal-Alloy, | (1) 6.5″ Metal-Alloy | (1) 8″ Metal-Alloy | (1) 12″ Metal-Alloy |
| Tweeter | (1) 1.1″ Metal-Alloy | (1) 1.1″ Metal-Alloy | (1) 1.1″ Metal-Alloy | N/A |
| Environmental | Designed to Meet or Exceed Mil-Std-810 
(Humidity, Salt Air, Heat, Cold, Immersion); 
IEC IP55 | Designed to Meet or Exceed Mil-Std-810 
(Humidity, Salt Air, Heat, Cold, Immersion); 
IEC IP55 | Designed to Meet or Exceed Mil-Std-810 
(Humidity, Salt Air, Heat, Cold, Immersion); 
IEC IP55 | Designed to Meet or Exceed Mil-Std-810 
(Humidity, Salt Air, Heat, Cold, Immersion); 
IEC IP55 |
| Finish | Kodiak Brown | Kodiak Brown | Kodiak Brown | Kodiak Brown |
| Suggested Retail Price | $1238 per pair | $1558 per pair | $1718 per pair | $1599 each |