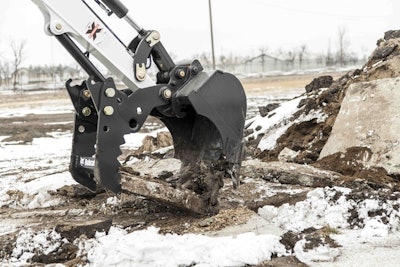 To help grab larger and more irregular-shaped materials on the jobsite, Bobcat unveiled the Bobcat Pro Clamp system.
The optional system expands the Bobcat excavator clamp attachment lineup for M-Series models including the E32i, E32, E35i, E35, E42, E45 and E50.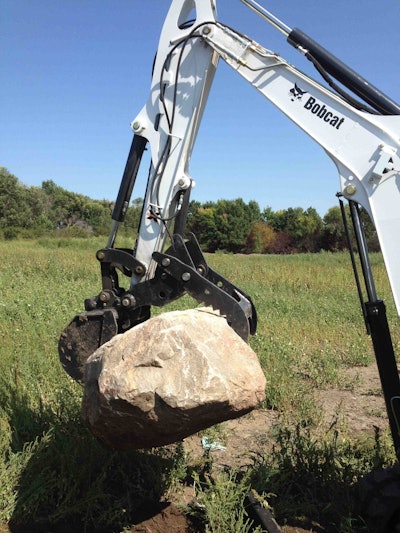 The Pro Clamp system includes a base that attaches to an M-Series excavator bucket and is equipped with a pin-on adjustable standard tool or reversible grading tool.
Both tools can be removed if desired to increase visibility into trenches and provide unlimited bucket curl for reaching above truck height when loading material.
The tool's adjustable design allows it to be pinned in a position that provides traditional grabbing performance. The tool can also be pinned at a higher point on the base to provide a wider jaw and more aggressive grabbing action for bigger materials.
The tool also offers greater range to follow the bucket farther towards material rollout.
The 24-inch Pro Clamp grading tool is reversible allowing for dual functionality.
With the grading tool pinned in the forward position on the bucket, it provides a smooth cutting edge on the bottom of a trench that eliminates the need for a second smooth lip bucket. When the grading tool is pinned in the reverse position on the bucket, it is designed for faster transitions from cleanup areas to dump trucks by removing spoil piles quicker and reducing manual shoveling.