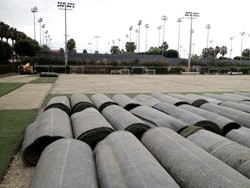 Shaw Sports Turf has introduced a program designed to divert synthetic turf from landfills.
The program repurposes and reuses turf that has completed its life cycle on the sports field into other productive uses, such as beautification projects, landscaping, pet turf and batting cages.
So far, the company has diverted 1.5 million pounds of turf and infill from the landfill just this year.
The effort aligns with Shaw's holistic approach to sustainability and expands upon its expansive carpet reclamation and recycling efforts.
"This program provides another benefit to synthetic turf, which does not require watering, fertilizing or mowing – saving millions of gallons of water every year," says Chris Small, director of specialty projects for Shaw Sports Turf. "By extending the life of the product and diverting it from the landfill, we're providing our customers with a more sustainable solution when they are ready to renovate their facilities."