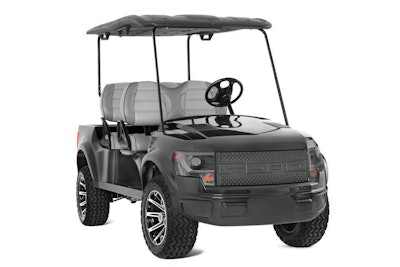 UTVs are typically the small vehicle of choice for contractors who need to get around large jobsites quickly. But this Ford Raptor golf cart might give some of the biggest UTV fans pause.
This mini Raptor is a very detailed recreation of Ford's very popular 4×4 pickup and is made by Caddyshack Golf Cars in Palm Desert, California. And it's not just a one-off creation. It's officially licensed by Ford and will go on sale at various Ford dealerships later this summer starting at $18,995. In other words, this is the most expensive Power Wheels you've ever seen.
According to a report from the Orange County Register, Caddyshack is making two models of the Raptor golf cart. One is powered by an 18.3-horsepower Kawasaki gasoline engine with a range of around 80 miles per tank. The other is powered by an electric motor that has a range of 30 miles per charge.
Both models of the cart have a governed top-speed of just under 20 miles per hour and will be offered in the same colors as the actual Raptor half-tons: tuxedo black, white, metallic blue and ruby red. The carts feature a roof, fold-down windshield, cup holders, working headlights and taillights and even a spray-lined cargo bed with a fold-down tailgate.
The only odd thing about the cart is that the one you see in the gallery above isn't actually golf course-compliant. Apparently, the tires are bigger than golf courses allow thanks to the custom 14-inch SVT wheels. However, Caddyshack says a version of the Raptor will eventually be released that is course-compliant. Regardless, no one's stopping you from bringing this bad boy onto the jobsite when it hits dealerships later this summer.
Click through the slideshow below:
Editor's Note: Wayne Grayson is the Online Editor for sister magazine Equipment World.