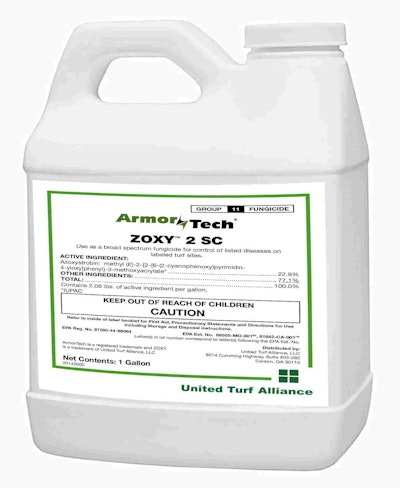 United Turf Alliance introduced the ArmorTech Zoxy 2 SC, a liquid formulation of an azoxystrobin fungicide.
Prior to going off patent, azoxystrobin was available to the professional turf management market as Syngenta Group Company's Heritage Fungicide.
The fungicide is labeled for the control of a variety of turfgrass diseases on golf courses, tees and fairways, as well as residential, commercial, recreational and sports turf.
The liquid is a highly concentrated formula that contains 2.08 pounds of active ingredient per gallon.
The fungicide is a water-based product with low odor with the ability to mix it in the tank.
ArmorTech Zoxy 2 SC is available in 4- by 1-gallon and 4- by 1-quart cases from United Turf Alliance members and dealer partners. The one-quart container treats approximately one acre of turf at the standard use rate.