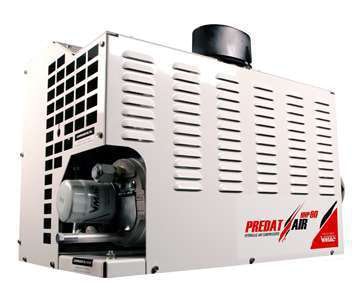 A new line of hydraulic air compressors from VMAC has been designed to deliver high capacity at low hydraulic flow to help trucks limited by their hydraulic pump capacity.
The Predatair HHP60 was designed with the 2011 and later models Ford 6.7 4×4 Super Duty in mind. However, the compressor also fits other truck bodies.
The Predatair features weather controls such as soft-start, standby mode, over-temp shut-off and integrated hydraulic/compressor oil cooler.
The compressor also protects the hydraulic system and the air compressor system.
Features:
Rated air capacity: 60 CFM at 150 psi
Hydraulic flow required: 12-18 GPM, 40-60 CFM
Hydraulic Pressure at full load: 2,650 psi (3,000 psi hydraulic pump recommended)
Safety systems: 3,300 psi hydraulic pressure relief
Weight (wet): 172 pounds (78 kg)
Dimensions: 16.5 inches (w) x 24 inches (l) x 18 inches (h)