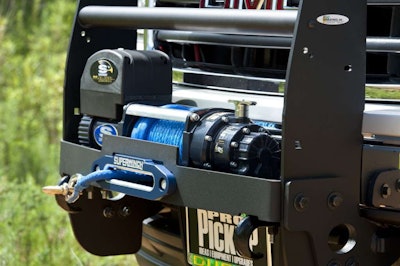 Whether uprooting shrubs and moving boulders into position during the summer or recovering vehicles stuck in mud or snow in the winter, a strong, reliable, bumper-mounted electric winch is a valuable tool in a landscaper's world.
But like any other tool in a professional's arsenal, choosing the best winch for the job requires passing up cheap, light-duty models in favor of those that are designed for heavy-duty, professional use.
You also have to match the winch to the vehicle it'll be mounted on.
Winch buyers often overlook the weight of the vehicle as a primary winch-selection criterion, which can be a costly mistake in the field where too little pulling power can be as bad as not having a winch at all.
An ideal work truck winch is one that has a pulling capacity of at least half-again that of the vehicle's curb weight. Double is even better.
That means selecting a winch with at least 10,000 pounds pull for the typical ½-ton 4×4 crew cab and six-tons of pulling power if it's for a four-door 4×4 diesel. Overall, the best winch choice for most 4×4 crew cab pickups is a 12,000-pound capacity model.
A dually, hydraulic or an electric winch with at least 15K of pull is an excellent choice.
Overkill? Not when you consider winching a vehicle out of a stuck situation. You have to get its entire weight either moving vertically to clear a rut edge – or rolling forward.
Also, consider a winch loses from 10- to 20-percent of its pull rating (depending on gearing and design) from the inner-most wrap to the outer wrap.
For example, a winch rated at 12,000 pounds capacity may have as little as 2,000 pounds line pull on the outer-most wrap of cable before stalling. That's why it's important to check the performance specs when comparing winches.
Quality first
Component quality is just as important. A winch has to be built with the highest quality components – and its internal workings sealed from the elements – when working around mud, dirt, rock, sand and water day in and day out.
There are a growing number of inexpensive winches on the market that are actually imported from sources overseas where quality control and quality of components aren't held to as high of standards as many of the true U.S.-made products.
Many of the winch brands have tiers within them that separate the "pro" models from the less expensive "consumer" winches.
Those lower prices are the result of cost-cutting measures on some level and it's usually the quality of components being used and/or it's an import. It's one of those "buyer beware" situations where one gets what they pay for in durability and performance.
Remember, a winch is only as strong as the weakest link in the system. Shop and install accordingly.
Whichever model or brand of winch you choose depends on many factors. But in the end, it all boils down to which one you have the most confidence when it's time to run out the cable.
Here are 10 winches we favor for use on landscaper's trucks (click through):