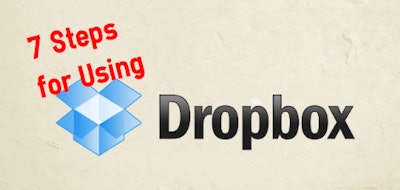 Have you ever wanted to send a potential client designs, photos or other project images online but can't because the file size is too large?
While there are a variety of ways to do this, Dropbox is a good, free solution that many landscapers don't use or know how to use.
Even if you don't need to send files online, it's just a matter of time before someone wants to send you something via Dropbox. So, it's important you get up to date with file-sharing sites.
Here are 7 steps to upload and send files using Dropbox.
| | |
| --- | --- |
| 1. Log In. Visit Dropbox.com, and if you don't have an account, create one by clicking "create an account." Once you have your sign-in email address and password, log in. | |
| 2. Click to Upload. Before you can start sending images, you'll need to upload them into folders. After you've logged in, you'll be on the main screen. At the top right, you'll see four icons. Click the one that says "Upload…" (You can hover over the images to see what each does.) | |
| 3. Load Images. When you click the "Upload" icon, a box will pop up asking what files you want to upload. Click "Choose files," and this will open up another box showing all of the files and folders on your computer. Choose the photo or file you want to upload by locating it on your computer. (Saving the photo to your desktop makes it easier to find so you don't have to search through folders.) The file must be 10 GB or less to upload to the site. If you have a file that is larger, upload it using the desktop folder version (see note below). | |
| 4. Click Photos. Once you've added all of the photos, you can now share them. (There are a few ways to share images, but here is one choice.) On the left-hand side, click "Photos." This will pull up all of the images you uploaded. | |
| 5. Choose What to Send. Click the photos you want to share. You can choose one or several, and a blue box and check mark will show up on them once you click them. (These photos are from the 2014 SEC Media Days.) | |
| 6. Share. At the top of the screen, click "Share 2 photos." (The number will depend on how many images you clicked to share.) | |
| | |
| --- | --- |
| 7. Send. Clicking "Share" will pull up a box. Enter the email address(es) in for the people you want to send the photos to on the first line. You can also add a message in the bottom box, which will show up in the email they receive. Then, hit "Send." If you would rather send the photos as a link (instead of an email), click "Get link." | |
While there are other methods to send photos and folders in Dropbox, these are the basic steps. Dropbox also allows you to link your computer and phone, so all of your folders can be saved and accessed from one place.
(NOTE: These tips are based off of the web browser version, but you can also use Dropbox as a folder on your desktop. This folder works like any other folder on your hard drive, but it also backs up to the web.)