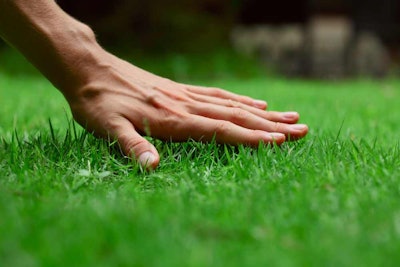 Summer heat can be a landscaper's worst enemy.
The intense heat waves can leave lawns brown and unhealthy.
However, The Grounds Guys have put together a few tips to help landscapers keep lawns looking green and healthy.
Let it grow
Mow a lawn once a week and set the height on the lawn mower about one inch higher than normal. This protects the grass roots from heat and allows roots to retain water and grow more easily. Always mow with sharpened blades since dull blades leave ragged cuts that could lead to fungal spores and lawn disease.
RELATED: How To Keep Grass Green in the Heat

Feed and hydrate well
To give a lawn an extra boost of protection, it's important to supply adequate nutrients for the lawn's growth. Feed a lawn with a fertilizer that is good for the specific type of grass in the lawn. Water a lawn in the morning so grass blades have time during the day to dry out. This helps prevent fungal disease too.
Give it some air
Aerating a lawn allows the soil to absorb water more easily and allows the roots to "breathe." Aeration is a process in which holes are punched into the turf through use of an aerator. These holes allow moisture and air to circulate, encouraging new growth and rejuvenating existing growth.
Fend off insects
If a lawn starts to produce brown, patchy spots, inspect it for insects. These patches could signal an insect problem. Insects such as grubs, mole crickets and various caterpillars can cause damage and ruin plans to have a healthy, green summer lawn.