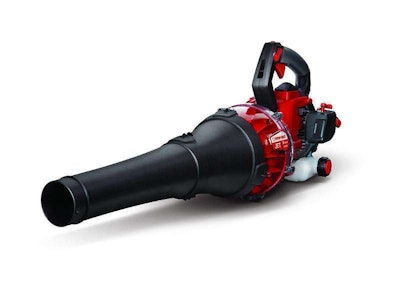 Troy-Bilt introduced a leaf blower with an engineered airflow that moves leaves and debris in a controlled way.
The Jet features a mixed-flow fan design that simultaneously maximizes air volume, (measured in cubic feet per minute or cfm) and harnesses speed (measured in miles per hour or mph).
As the fan rotates, it pulls in and pressurizes a 650 cfm of air, which is pushed out of the nozzle at 130 mph.
The leaf blower has an optimal weight balance, so the blower is stable during operation.
Additionally, the blower has a user-focused design that aligns the air intake, fan and air output so the engine heat, sound and vibration are funneled out through the blower, which keeps the engine cooler and quieter.
The blower can be started with a Prime, Flip & Go starting system, which allows operators to prime it, flip the choke lever and pull start.