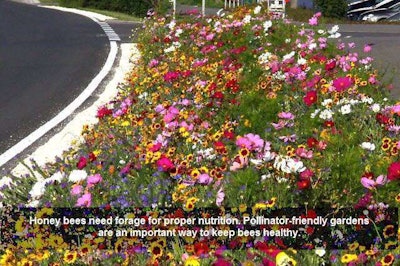 In honor of National Honey Bee Day this Saturday, the Bayer Bee Care Program is sharing the good news about honey bees.
According to the organization, honey bees are rebounding when compared to previous years.
Honey bee populations are stable or increasing globally.
After a long winter, hives on two continents were stronger than in previous years.
The President started an initiative to find ways to improve honey bee health.
New public/private partnerships are addressing forage and nutrition challenges.
Even with the good news, honey bees still need a great deal of attention.
"From a lack of food and heavy workload while being trucked from coast to coast pollinating crops to diseases and deadly pests, honey bees are constantly facing obstacles," the organization says. "There's even the deadly Varroa mite, which has been called 'the single most detrimental pest of honey bees' because it sucks their blood just like a giant tick and can ultimately destroy an entire colony."
Back in April, Bayer opened its North American Bee Care Center in Research Triangle Park, North Carolina. The company also introduced Fluency Agent that was used to help reduce potential pesticide dust exposure to honey bees during the planting season on more than 3 million acres in North America.
Additionally, the company traveled coast to coast during National Pollinator Week sharing the good news about honey bees.