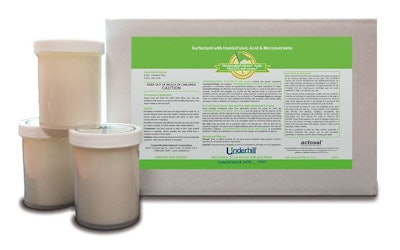 Underhill International introduced soil surfactant pellets to its collection.
Tournament-Ready Plus with Actosol can help prevent and cure localized dry spots in "hydrophobic soils" at sports fields, parks and other natural turf areas.
By improving the infiltration rate, the product allows for more efficient irrigation coverage and reduces hand watering.
Hydrophobic soils repel water and do not allow it to infiltrate down in the root zones, causing dry patchy areas.
The pellets are used to supplement turf that has poor moisture-holding capacity by increasing water absorption onto soil particles.
Available in 16, 8-ounce pellet packs, Tournament-Ready Plus with Actosol features a blend of natural ingredients and surface-active agents, including humic and fulvic acid and micronutrients.
The product modulates water movement laterally and vertically into the soil profiles for up to 14 weeks after treatment. It is also root enhancing and helps water infiltrate the soil with uniform moisture management and does not bind in the thatch layer or cause spongy turf.