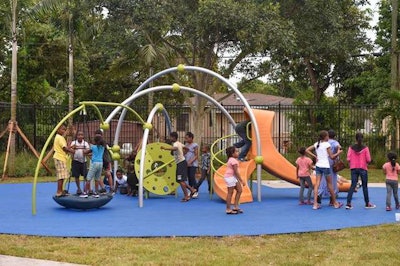 Oly-Ola Edgings donated Teco-Edg to the Gratigny Plateau Park project in northwest Miami-Dade, Florida.
Teco-Edg is a 6-inch-high, 100 percent recycled edge restraint.
The park is located in an underprivileged community where space for children and families to play and spend time outdoors is limited. The park officially opened to the public in the beginning of August.
The park features a variety of fitness stations, a toddler playground, seating areas and a butterfly garden, as well as new walking paths designed to resemble a flower and its roots.
Oly-Ola donated 300 feet of Teco-Edg to line the playground surfacing. Teco-Edg is made of 100-percent recycled PVC strengthened by impact modifier and UV inhibitor. The edge restraint is an L-shaped design and includes specially engineered drainage slots. The restraint will provide a hard surface for walking but will allow water to runoff at the same time.
After two years of planning, fundraising and construction, the park was able to be built with help from a unique public-private sector partnership, spearheaded with the help from ABC News-WPLG Local 10 news station and its "Making a Difference" series. Through the non-profit Parks Foundation of Miami-Dade, in partnership with Miami-Dade Parks, Recreation and Open Spaces Department, a host of corporate donors and local businesses also provided funding, in-kind labor and materials to make the project possible.