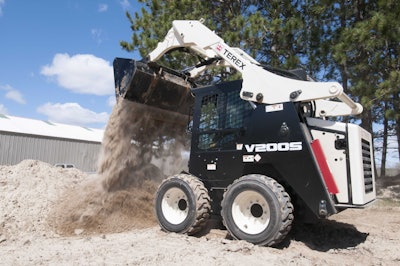 Featuring more than 100 enhancements from previous models, Terex has launched a line of skid steers and compact track loaders.
The Terex Generation 2 machines are available in radial and vertical lift-path patterns with rated operating capacities ranging from 665 to 2,300 pounds. Additional models with 2,300- to 3,600-pound ROC will be added to the line in the next few months.
The enhancements on the machines were designed to increase machine performance with additional rated operating capacities and loader breakout forces.
All of the machines are equipped with Tier 4 Final engines.
Additionally, the Gen2 skid steers provide increased fuel capacities, which means less refueling.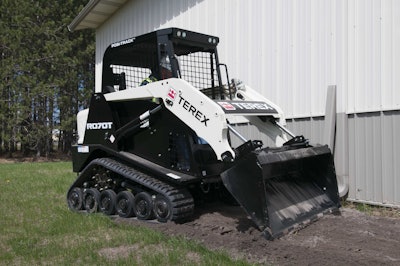 Many improvements were based on customer and distributor feedback, as well as warranty data from the past six years.
Some of the improvements include an improved quick-attach pin profile, a cylinder seal package that includes three additional sealing surfaces and additional wear bands to reduce side load strain.
Gen2 models also include high-torque, stainless-steel clamps, upgraded hydraulic couplers, one million cycle hoses on all high-pressure applications, standard and heavy-duty "W" style crimps on loader and drive hoses and improved O-ring installation processes.
The Terex Gen2 compact track loaders use the Posi-Track suspended undercarriage technology and all-rubber track system.
The skid steers feature 10-inches of ground clearance and 28 degrees rear angle of departure, as well as speeds of up to 12 mph.
The line includes five symbols of distinction, including an "R" or a "V" if the machine is a radial or vertical lift-path unit, a series of three numbers following indicating the ROC and an "S" or "T" indicating whether the unit is a skid steer or track loader.
The Terex Gen2 line currently includes eight models, ranging in size from 665 pounds to 2,300 pounds of ROC: R070T, R160T, R165S, R185S, R190T, R200S, V200S, V230S. Additional Terex Gen2 compact track loaders and skid steers, including radial and vertical lift models with 2,300 to 3,600 pounds ROC, will be added to the product line in the months to come.