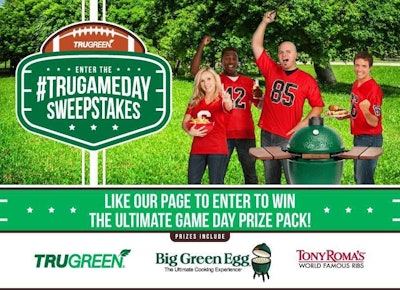 With the kickoff of football this past weekend, TruGreen is getting in the spirit.
This season, the company is offering football fans a chance to show off their team spirit to win prizes.
Now through Sept. 21, TruGreen's #TruGameDay promotion invites fans and followers to upload a photos showing their "TRU" team spirit and share with friends and family via Facebook.
Entrants will be entered to win one weekly prize worth $750 that will be chosen at random.
Each entrant will receive additional entries for sharing with friends.
At the end of week four, one grand prizewinner will receive a TruGreen Ultimate Game Day Package with items needed to throw a game day watching party worthy of their favorite team worth $1,200.
However, the fall is not just about football. In fact, the company recommends the following to help get lawns in shape for the fall season:
Aerate the area.
Aeration, creating tiny holes in the lawn, lets water soak in, stimulating root growth and improving fertilizer absorption.
It's OK to go "over" board.
Overseeding, the spreading of grass seed over existing grass to increase density or promote growth on bare spots, can vastly improve a lawn's appearance after a rough summer.
If it's still growing, keep mowing.
Don't think fall means the end of mowing. To guarantee you have a healthy lawn in the spring, continue to mow regularly while the turf is actively growing.
Don't leave the leaves.
Falling leaves are a colorful reminder that fall is in the air, but leaving layers lying around can suffocate a lawn. It's best to either remove the fallen leaves or mulch them with a mulching mower. You can compost the leaves you collect and use them to nourish plants and shrubs, which also reduces the impact on the local landfill.