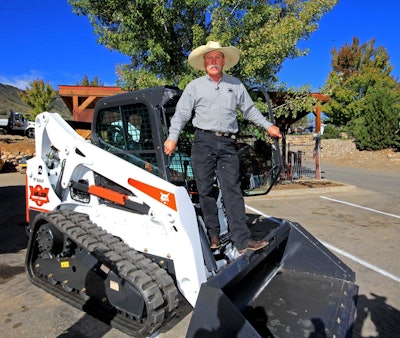 A second-generation compact equipment owner received the surprise of his life after winning the Special Edition One-Millionth Bobcat T650 compact track loader.
Steven Klumker of Macos, Colorado was visiting a Bobcat dealership thinking he was going to be interviewed as a finalist for the contest.
Instead, he was handed the grand prize with his family there to celebrate with him.
Klumker won the machine, which was part of Bobcat's "Unstoppable" campaign and Million Loaders Celebration contest.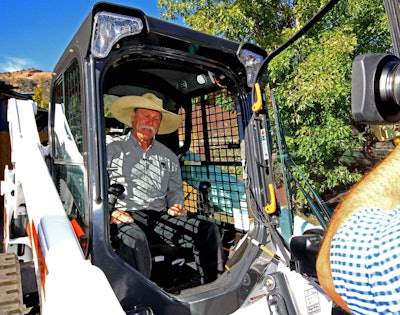 "This is a dream come true for me — Bobcat machines have been our family's livelihood and our lifestyle my entire life," Klumker says "And I cannot wait to show this loader off."
Kumker was selected from a pool of more than 12,000 entries that came in over a six-month timeframe. Each entrant had to answer the question, "How does Bobcat make you unstoppable?"
"Steve's was exactly the type of entry we were looking for," says Gary Hornbacher, Bobcat Company vice president of sales and marketing. "He described how Bobcat equipment has helped his entire family — first- and second-generation Bobcat equipment owners — build a successful business that spans more than 40 years and has covered six states. He and his family were early believers in Bobcat machines, and Steve is a great example of how a customer can be unstoppable with the right equipment and a solid relationship with his local dealer."
Klumker has used a variety of Bobcat skid steers, compact track loaders, compact excavators and attachments in countless applications, from a $300 million desert resort and golf club to a 36-year-long, five-phase housing development project. His work has included building lagoons and swimming pools, backfilling utility trenches and landscaping and tree planting across California, Nevada, Arizona, Colorado, Utah and New Mexico.
The contest's second prize went to Troy Hieb of Newcastle, Wyoming who will receive $1,000 in merchandise credit to spend at any authorized Bobcat dealer location.
RELATED: Bobcat Rolls Out One-Millionth Bobcat Loader at Special Ceremony
Hieb, a lieutenant with the Newcastle Volunteer Fire Department, currently owns a Bobcat T180 compact track loader, which was used to help move debris during a home fire.
"The use of my Bobcat T180 allowed the Newcastle Volunteer Fire Department to safely, quickly and fully extinguish a fire that could have caused far more damage to the home if not completely extinguished," Hieb wrote in his entry.
Fifteen third-place winners will receive Bobcat jackets for telling their stories. They are:
Robert H. Adair; Hadley, Massachusetts
Jason Benedict; Pipe Creek, Texas
Eric Boyd; Power, Montana
Dave Chapin; Lincoln, Nebraska
Gonzalo Corvera; High Ridge, Missouri
Gary Dominick; Corfu, New York
Josh Gaugler; Belgrade, Montana
Ryan Geiger; Columbia City, Indiana
Dennis Del Grosso; Saranac, New York
James Kaufman; Anderson, South Carolina
John Kurtz; Scarborough, Ontario
Randall Morgan; Hampton, Minnesota
Perry Lambright; Clearbrook, Minnesota
Rick Sherman; Montrose, Colorado
Christy Webber; Chicago, Illinois