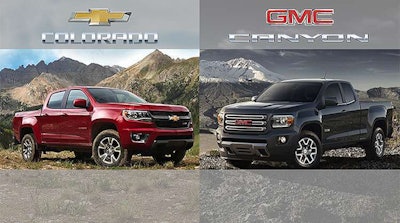 With production beginning this week and a fall launch right around the corner, GM has announced the V-6 fuel economy numbers for its new midsize pickups the Chevrolet Colorado and GMC Canyon. And while we still don't have numbers for four-cylinder fuel economy yet, based on these numbers the Colorado and Canyon will not only be the most powerful midsize trucks on the market but also the most fuel efficient.
When equipped with a 305-horsepower, 3.7-liter V-6, the 2WD Colorado and Canyon will get 18 miles per gallon in the city, 26 mpg on the highway, amounting to a combined fuel economy of 21 mpg. The 4WD meanwhile will get 17 mpg city, 24 mpg highway and 20 mpg combined.
These numbers are impressive considering the long hold that the Toyota Tacoma and Nissan Frontier have held on the title of most fuel efficient midsize trucks. The 2WD Colorado and Canyon's 26 mpg highway is 5 mpg better than the similarly equipped Tacoma and 4 mpg better than the Frontier.
GM has not yet announced fuel economy numbers for the 2.8-liter Duramax diesel engine that will launch for the 2016 models, but says those numbers will be available closer to launch.
In an announcement of August truck sales, GM noted that pre-orders for both pickups were very strong. Nearly 28,000 dealer orders have been placed for the Colorado while the Canyon has received 14,000.
Editor's Note: Wayne Grayson is the online editor for sister magazine Equipment World.