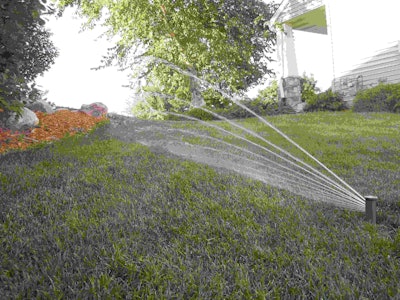 IrriGreen is set to showcase its IrriGreen Genius Irrigation System at the Midwest Innovation Summit in October.
The IrriGreen Genius Irrigation System uses up to 50 percent less water and is digitally controlled to match watering patterns to the exact shape of the lawn.
The installation requires up to 80 percent fewer sprinkler heads and up to 85 percent less underground pipe.
With IrriGreen, one sprinkler in the interior of each zone waters evenly in the exact shape of each zone, with minimal overlap and no over-spraying outside the zone. The Genius Sprinkler features a digital valve-in-head and a pop-up rotor with a low-flow, 14-stream, multi-trajectory nozzle.
The Genius Server monitor and adjusts stream volume, direction and distance.
The sprinklers conform watering patterns to the specific outline of each zone and maintain uniform water distribution at distances up to 35 feet within each zone.
The sprinkler system will be on display at the show at The Depot Renaissance Hotel in Minneapolis, Minnesota from Oct. 27-28.