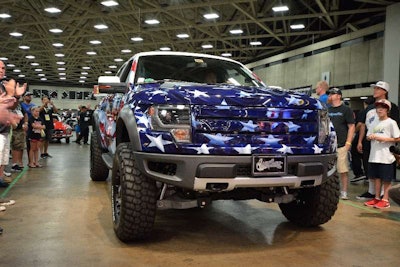 A custom one-of-a-kind Ford Raptor recently helped raise more than a quarter of a million dollars for veterans with disabilities.
The Patriot, a 2014 Ford F-150 Raptor built by West Coast Customs, was auctioned at the Mecum Dallas Auction on Sept 6, 2014 for $250,000 with proceeds going to The MobilityWorks Foundation Cars for Troops initiative. The organization helps deserving veterans afford wheelchair-accessible vehicles and other adaptive driving devices.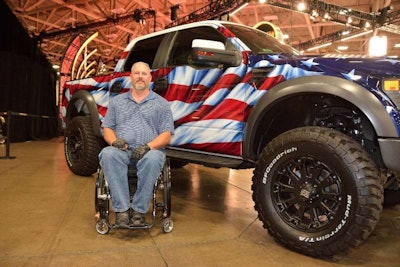 "We are thrilled with the generosity to benefit The MobilityWorks Foundation," says Bill Koeblitz, president and CEO, MobilityWorks, the largest provider of consumer and commercial wheelchair-accessible vehicles in the U.S. "Veterans need our support, and the money raised will go a long way in helping us do everything we can to provide them with wheelchair-accessible vehicles that enable them to have full and active lives."
The Patriot features a custom painted American flag exterior and includes interior embroidery representing each branch of the U.S. military. There's even a handmade custom grille and an onboard computer provided by Bully Dog. West Coast Customs also installed a BDS four inch lift, which gives the Raptor a higher profile.
Cars for Troops is an effort of The MobilityWorks Foundation, a non-profit organization that offers transportation support and services to mobility-challenged individuals, their families, and support organizations throughout the United States. The Cars for Troops program furthers the organization's mission to make the world more accessible for veterans with disabilities.
"The VA only grants veterans a small amount of money to purchase wheelchair-accessible vehicles; that's where the Cars for Troops program steps in," says Retired USMC Staff Sergeant Jack Pierce. "The money raised today will provide a number of veterans access to accessible vehicles, all in effort to help them regain their freedom of mobility."
A Marine Color Guard and distinguished group of disabled veterans escorted the vehicle into position on stage. Lively bidding among multiple bidders drove the sale price to $250,000 and an additional $30,000 in cash donations were made from the auction floor.