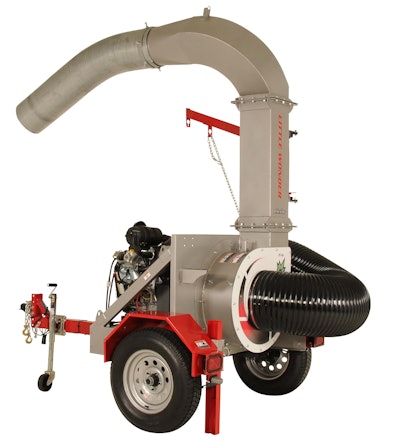 To help with fall maintenance, Little Wonder has introduced a line of leaf and debris truck loaders.
The Monster TruckLoader Line produces a debris-shredding ratio of 15 to one.
The machines feature a four-blade, all-steel impeller with shredding teeth at all three debris touch points of the blade. This allows operators to fit more in the truck and clear more properties between offloads.
Models & Mounts (skids and trailers are factory mounted):
18 horsepower Briggs & Stratton Vanguard Skid or Skid w/Swing-Away Hitch
29 horsepower Briggs & Stratton Vanguard Skid or Trailer
35 horsepower Briggs & Stratton Vanguard Skid or Trailer
36 horsepower Yanmar Diesel Skid or Trailer
Tow-Behind Trailer Features:
Road Ready
Torflex axles
Adjustable drawbar, swivel jack and stabilizer leg
Pre-wired and recessed tail lights
Built-in tool rack
The breakdown:
Impeller:
Four steel blades teethed on three sides
– 15 to 1 debris reduction ratio
Taper Lock Hub
Square stack design:
Forces airflow to the corners to keep debris moving through the stack and chute
Stack gaskets seal in air and debris moisture for uninterrupted airflow and a clean machine
Steel construction:
Impeller, housing and housing liners
Engine cradle and deck
Stack and chute
Intake hose:
10-foot long with wide diameter for increased volume
Flexible and durable urethane hose
Comfort grip nozzle handle
Optional accessories:
Light Kit – dual LED lights mountable to the stack
Safety Kit – two safety cones and set of wheel chocks (with mounting brackets for trailer units)