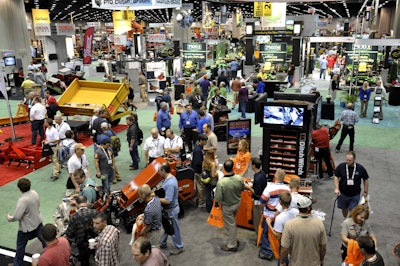 Some of the preliminary results are in, and GIE+EXPO's registration is looking strong across all platforms.
There are more than 130 new exhibitors, stepped-up from returning exhibitors, an increase in attendee registrations and some sold-out contractor education programs.
As of Sept. 18, attendee pre-registration is 5 percent over 2013 and 20 percent over 2012.
Exhibitor participation is up with more than 130 new exhibitors, an increase in space for many large-scale exhibitors.
The Outdoor Demonstration Area will be the largest ever and will feature some exhibits, including UTV test tracks and other features.
More new product introductions are expected, with more than 100 products in the New Products Showcase and at least 25 exhibitors hosting press conferences.
Hardscape North America, co-located with GIE+EXPO, will be the largest ever with pre-registration up 40 percent from 2013.
GIE+EXPO Workshop registration is up 53 percent with some sessions already sold out.
More than 300 GIE+EXPO contractors have upgraded registrations to include hardscape training.
The new Friday snow and ice workshop is expected to have 200 participants.
GIE+EXPO's 2014 dates are Wednesday, Oct. 22, Dealer Day and Oct. 23-24 for all industry participants.