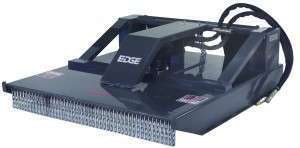 CEAttachments has introduced a 72-inch High-Flow Edge Rotary Brush Mower to its lineup.
The mower is designed to cut through thick brush and move over terrain easily.
Additionally, the machine is built to handle heavy weeds, undergrowth and small saplings up to 4 inches in diameter.
Standard Edge Rotary Brush Mowers are available in widths from 48 inches (1219 mm) to 78 inches (1981 mm) and High-Flow models now range from 72 inches (1828 mm) to 90 inches (2286 mm) with this model.
All mowers feature a direct drive hydraulic motor requiring 8-40 gpm hydraulic flow and a stump jumper. All models come complete with hoses and flat face couplers.