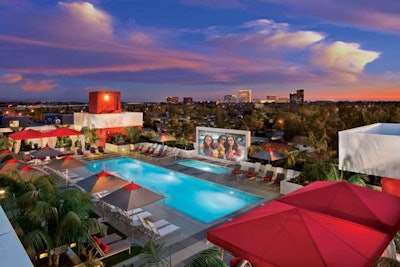 What happens in Vegas shouldn't always stay there, and Lifescapes International proves that with this rooftop project.
Lifescapes International – the landscape architectural firm behind destinations such as the Wynn Resort's Encore Beach Club and Tao Beach in Las Vegas – completed a 1-acre rooftop design at The Marke apartment complex by Lyon Communities in Orange County, California.
The space includes Las Vegas-style amenities such as a saltwater pool and spa, fire pits, bar, theater, private cabanas and two clubhouses. The landscape team installed a variety of plants such as Medjool date palms, sago palms, kentia palms and bromeliads.
It was the team's Vegas experience, in part, that helped them win this bid, says Julie Brinkerhoff-Jacobs, president of Lifescapes International. Her company has worked on 12 of the most notable destination resorts on the Vegas strip, along with others in the city.
When Lyon Communities asked for a Vegas-inspired design, Brinkerhoff-Jacobs and her team were ready for the challenge. "We set out to design and deliver an environment that is as fun and as entertaining as the successful young professionals who are moving into The Marke," she says.
For the apartment community's two courtyard parks, Lifescapes International used plant combinations of Medjool date palms, queen palms, textile bamboos, multi-trunked African tulip trees, Joy perfume trees, Bougainvillea, flax lilies, Blue Chalksticks, Star Jasmine and creeping lilyturf.
Project: Apartment complex, Santa Ana, California
Landscaping: Lifescapes International, Newport Beach, California
Want your project featured in the magazine? Email high-resolution project photos and a description of your work to Lauren Dowdle at lheartsill.rrpub@gmail.com.