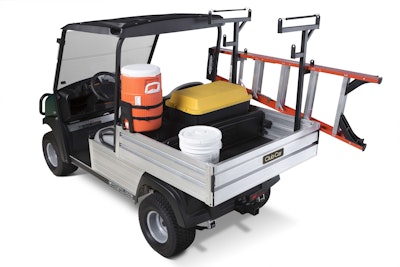 Club Car has introduced a VersAttach bed-based attachment system for its Carryall line.
The system accommodates 10 VersAttach tools designed to organize equipment and gear, as well as let crews move quickly from job to job.
RELATED: Club Car Unveils Carryall UTVs
The tools include:
Standard, ratcheting and long tool holders
Backpack blower racks
Ladder racks
Short and long bed dividers
Cargo tie downs
Water cooler and fuel-pack holders (Coming soon.)
The aluminum beds feature a Rhino-lining and a single-handed, latch-and-release tailgate runs across the width of the vehicle. It can be opened from either side or the center.