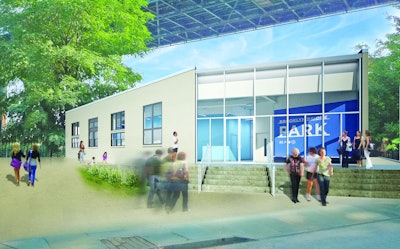 Brooklyn Bridge Park Corporation, general contractor Stalco Construction and architect Architecture Research Office have begun a renovation and conversion of a former New York City Department of Environmental Protection maintenance building into a Brooklyn Bridge Park environmental education, community and maintenance facility.
The building is set to include an environmental education classroom, which will be operated by the Brooklyn Bridge Park Conservancy.
Set to open in the summer of 2015, the building will become a part of the northward expansion of the park, which also includes landscaping designed by Michael Van Valkenburgh Associates.
The $3.6-million renovation will serve the 85-acre Brooklyn Bridge Park, according to Stalco Principal Kevin G. Harney.
The renovated, 11,300-square-foot building will house a 300-square-foot community room with a display area, an 800-square-foot classroom for environmental education programs, a BBP maintenance space, a kitchen, two public bathrooms, a locker room and a basement storage area.