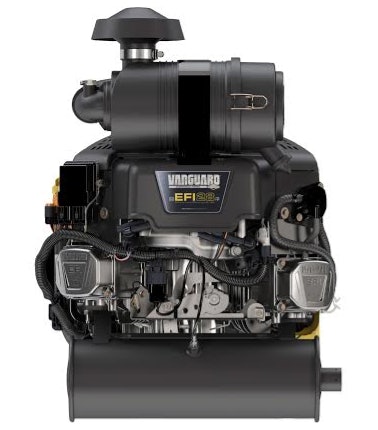 Briggs & Stratton Commercial Power introduces its Vanguard 810cc EFI (electronic fuel injection) engine series.
Available in 24, 26 or 28 gross horsepower1, the Vanguard EFI engines have an automotive-based closed-loop EFI system for up to 25 percent better fuel economy compared to the 810cc Vanguard carbureted engine. The engines also have 810cc of displacement for higher torque.
Other features include a debris chopper fan, which provides up to a 30-degree cooler engine.
Additionally, the Vanguard 810cc EFI engines offer diagnostic features to arm fleet or dealer technicians with information.
Three diagnostics options will enable identification of issues in the field and provide technicians the ability to test, update, save and share engine data. These include in-field blink codes, supported by Vanguard's exclusive Power Code; a Tiny Scan reader that can be plugged into the service port to display error codes; and a cable connecting the ECU to a computer for a deeper dive into engine data.
The 810cc EFI engines will be produced at the Vanguard Certified Production Center located in Briggs & Stratton's Auburn, Alabama, plant.
The 810 EFI will be available in Ferris mowers, with Hustler and Husqvarna being probable.