In celebration of National Public Lands Day, Project EverGreen partnered with Ruppert Nurseries, Union Station Redevelopment Corporation and the National Park Service to revitalize Union Station's Columbus Plaza.
Partners and community volunteers worked together to restore and renew the Columbus Plaza Garden landscape.
The restoration included replanting more than 600 junipers and ornamental grass plants, laying grass seed, weeding, mulching power washing the hardscape and more.
Union Station and the Columbus Plaza, facing the station's main entrance, are uniquely situated in one of Washington's busiest and most historic addresses at the foot of Capitol Hill. Visited by more than 37 million people every year, Union Station and its grounds are the third most visited tourist destination in the world.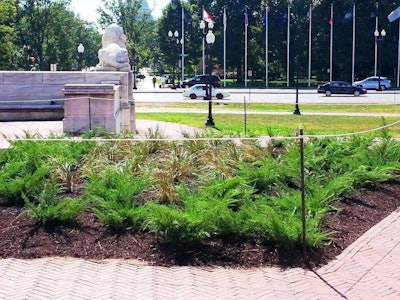 Union Station Redevelopment Corporation funded the plants costs and coordinated the participation of more than 20 staff and community volunteers to install the plantings in collaboration with the NPS, Project EverGreen and its contractor volunteer partner, DC area-based Ruppert Nurseries.
Ruppert Nurseries delivered the nursery stock and mulch, and donated onsite crew labor and project oversight of USRC volunteers. NPS National Mall staff provided the removal of dead plants, site preparation and tools needed by the nearly 30 combined donor volunteers at the Columbus Plaza Garden. The in-kind donations of nursery stock, organic materials, equipment, and labor preparation and planting from all of the participating contributors totaled more than $30,000 in value.