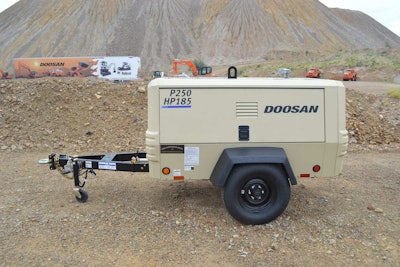 Doosan Portable Power has introduced the Tier 4 Final P250/HP185 portable air compressor, featuring dual pressure and dual flow.
The model features a "two-in-one" design, which delivers the pressure and flow in a single air compressor.
The dual pressure/dual flow air compressor operates at either 250 cfm at 100 psi or 185 cfm at 150 psi. The variable pressure and flow settings are controlled with a push-button keypad, allowing the operator to change from a low-pressure to a high-pressure setting in one step.
The machine is powered by a Deutz D2.9 Tier 4 Final-compliant engine with a diesel oxidation catalyst aftertreatment system.
Additionally, it comes equipped with a quiet package design, replacing the standard engine-mounted mechanical fan with four variable-speed electronic fans.
Overall operation of the P250/HP185 is simplified with a digital display and LED backlit gauges, providing full machine status and fault codes.
The P250/HP185 exterior features corrosion-resistant polymer fenders and endcaps, bolt-on folding A-frame drawbar and running gear and lights.