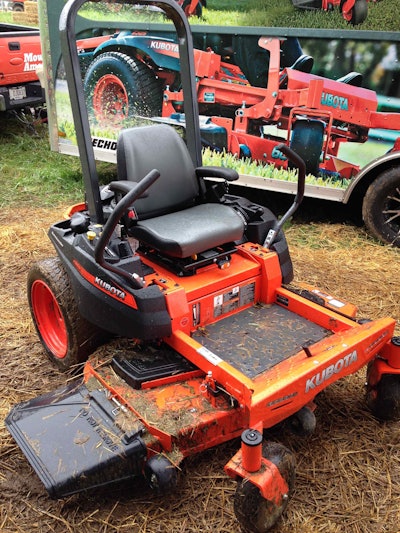 Kubota Tractor Corporation introduced three models at GIE+EXPO to its Z700-Series line: the Z724X-48, Z724X-54 and Z726X-60, all powered by Kawasaki's FX engines.
Available with a 48-, 54- or 60-inch deck, the Z700X models feature seven gauge, 6-inch deep, fully-welded decks.
The mowers have a Parker TorqPact GT 14 and a deck-height adjustment dial.
The Z700-Series is designed with a 2-by 3-inch tubular steel frame.
The operator station has a thick, high-back, adjustable seat. There are also heavy-duty sealed spindles and flat-free front caster tires.
The mower line has a travel speed of 11 mph, and each model is equipped with an 11.6-gallon fuel tank.
Officially introduced at GIE+EXPO, the mower line was also on display at the dealer event in Nashville, Tennessee, last week.
They also introduced skid steers (the company's first entry into this market) and tractors.