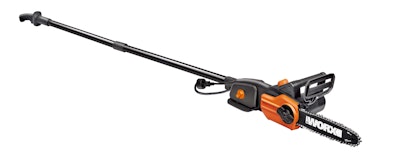 Worx has expanded its line of electric chainsaws with the introduction of the 10-inch, 8A Electric Chainsaw/Polesaw.
The two-in-one yard tool can detach without tools from its extension pole for use as a regular chainsaw.
The 8-amp motor drives the pole saw, which is equipped with a 10-inch low-kickback bar and chain.
The saw weighs 10 pounds and overmolds on the front and rear handles provide control.
Additionally, the polesaw includes an Auto-Chain Tensioning System, and a dial on the saw's body sets the proper chain tension to prevent over-tightening.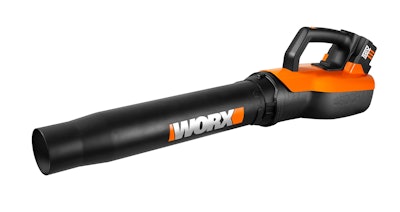 The Worx automatic oiler system has a reservoir with an oil level indicator that helps the operator know when it's time to refill.
The company has also released the Worx 56V MaxLithium Blower with a turbo boost option.
The cordless machine is designed so that as much as possible can move across the axial fan to a maximum air velocity of 480 cubic feet-per-minute.
The blower's air speed is in excess of 100 mph and features a large diameter nozzle for greater airflow. The 2.0 amp hour MaxLithium battery recharges in approximately 90 minutes.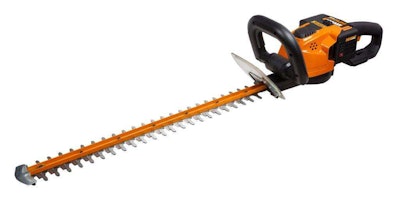 Lastly, Worx introduced the 56V MaxLithium Hedge Trimmer with 24-inch cutting blades.
Weight 10.1 pounds, the trimmer cuts branches up to 3/4 inches in diameter.
The Euro-styled trimmer features a soft grip rear handle and D-shaped front handle.
A clear-view, hi- impact hand guard angled in front of the handle provides protection and helps deflect debris.
Additionally, the fully hardened, factory-sharpened blades operate at 2200 strokes-per-minute.
The 10.1-pound hedge trimmer has a two-step trigger to prevent accidental start-ups.