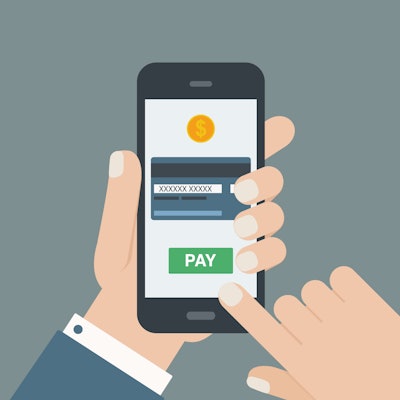 Consumer research trends indicate that the landscaping market opportunity is expected to increase, but a rise in consumer demand is only valuable to the extent that it results in the cash flow you need to grow and manage your business.
One simple way to get paid quicker? Accept mobile payments.
Here are some of the reasons why landscape contractors benefit from mobile payment options, and how to instill the payment option into your processes.
Consumers want the option to pay with credit.
Accepting credit cards by way of mobile payment enhances the level of customer convenience you're able to provide, which heightens the customer experience, and ideally leads to repeat business and referrals to friends and neighbors. In one study conducted by SurveyMonkey, 86 percent of respondents said they prefer to pay with a credit card when given the option. Accepting mobile payments requires no additional equipment other than a smartphone or tablet and a small dongle that plugs into the headphone jack for credit card swiping.
Collect funds immediately upon job completion.
Mobile payments empower your staff to collect payment for a job as soon as it's complete. By utilizing the mobile app associated with your payment processor, team members without a dongle can use their mobile device to log in to your businesses payment processing account to securely charge a customer's credit card on the spot. Mobile payments also allow your business to email a "paid" receipt to the customer, eliminating paperwork redundancy for those customers who don't care to receive a final statement of work completed.
Consumers may be more willing to spend.
Customers who ask you to visit their outdoor space and prepare a landscaping plan and estimate, only to balk at the price tag, can erode your business's potential profitability, costing you in valuable man-hours, fuel and travel expenses, and the opportunity cost of spending time on work that doesn't result in a job. By allowing customers the option to use their credit card in mobile payment transactions, they may be less likely to balk at your quoted price — consumer behavior research repeatedly confirms that consumers are less price sensitive when they use credit versus cash.
Qualify customers upfront.
Though your policies must be flexible enough to ensure you remain competitive, there is time and cost associated with visiting potential clients and preparing quotes when you're nearly booked to capacity for the season. Mobile payments can help you qualify leads upfront during your busy season to optimize your time. Notify prospects that you'll charge a flat consultation fee (payable by a mobile credit card transaction during your first meeting) for the time involved with your first meeting. You can also utilize mobile payments to secure a small deposit when work is approved, but won't begin for some time.
Reduced risk involved with payment acceptance.
Accepting personal checks from customers inherently introduces risk to your business: Until you deposit the check with your financial institution, you don't know if it's backed by sufficient funds. If it isn't, you could incur costs for the "bounced check," in addition to the follow-up communications you'll be forced to have with the customer to recoup the money you're owed. Mobile payments can eliminate such risk. By swiping the customer's debit card (which acts just like a check if he or she doesn't like to use credit), you can collect a "check" payment — and know immediately if the account's funds aren't sufficient.
Operational efficiencies reduce your expenses.
Spending time driving to the bank to make deposits, reconciling cash and check payments, and documenting such information for tax filing all take time that could be spent growing your business.
With mobile payment transactions, funds are transferred directly to a business bank account (often in less than 48 hours), including a record of which customer made the payment.
EDITOR'S NOTE: Kristen Gramigna is Chief Marketing Officer for BluePay.