The new Patriot rail-mounted slider complements B&W's full line of hitches and is built to exacting specifications for smooth, flawless and virtually inaudible operation, the company says. Unlocking the slider hitch is made effortless, even on irregular terrain, via the locking mechanism's gear-reduced cam ratio design, which gives the user mechanical advantage.
B&W says the Patriot's two, solid 1 in. tubular steel carriage rails are designed with sturdy center supports that prevent the rails from deforming or binding as a result of flexing under load. Hourglass-shaped rollers convey the carriage mechanism with fluid motion, regardless of topography. Once unlocked, the hitch is free to slide back into its maneuvering position and afterward, it glides up to its locked position just in front of the rear axle, the company says.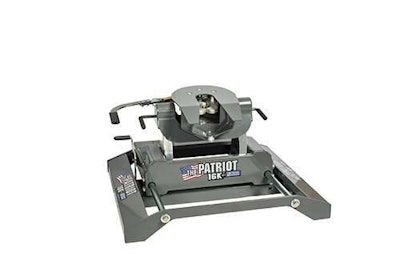 "Traditional slider hitches are known to make a bit of noise, and this can be disconcerting to some operators," says Don Collins, president, DC's RV Centers. "With its precise fittings and smooth, quiet operation, B&W's Patriot 16K slider will enhance the end-user's towing experience."
B&W's new Patriot 16K slider hitch accommodates 12 in. of slide and is perfect for popular short-bed pickup trucks that allow less travel distance to the cab. Vertical adjustments can be made from 17 in. to 19 in., allowing ample clearance for taller truck-bed walls. The Patriot 16K slider will fit on all industry standard mounting rails, the company says.
The Patriot 16K slider makes it easy to engage and disengage a trailer, as well. Thanks to its cam-lock design and ¾ in. thick wrap around jaws, an operator can couple or uncouple any trailer, regardless of the lay of the land, B&W says. Pivot arms feature tough polyurethane bushings that allow the engaged coupler head to pivot smoothly, and the fully articulating head is cushioned by an integrated leaf spring.
"The Patriot 16K rail-mounted fifth wheel slider hitch is an American-made alternative to the offshore-manufactured slider hitches that have proliferated in recent years," says Travis McCall, product engineer for B&W Trailer Hitches. "Our hitch is engineered to operate as a finely tuned system, and we think users will be very impressed with the fit, finish, operation and overall ergonomics of our newest hitch design."
The 16K Patriot RVK3270 rail-mounted fifth wheel slider hitch has been tested and meets or exceeds the J2638 standard for a 16,000-lb. vehicle tow rating (VTR), the company says. As in any towing scenario, B&W strongly recommends that users never exceed the Patriot 16K slider's VTR.
Editor's Note: This story originally ran on sister site, Truck Parts & Service