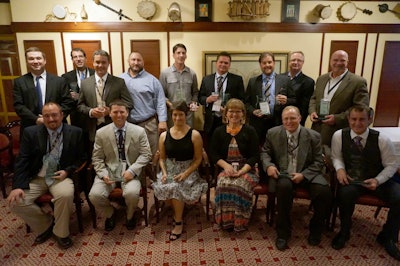 Just back from the Landscaper of the Year cruise to the Bahamas, here's an up-close look at TLC's 12 finalists.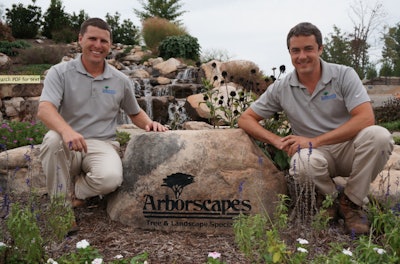 Jason Tebben and Nathan Morrison, Arborscapes in Pineville, North Carolina
Since the sixth grade, Jason Tebben and Nathan Morrison have been best friends. That trust and communication plays a huge role in what makes their business, Arborscapes, so successful. In 2000, Arborscapes started by specializing in tree care and landscaping under one roof. Today, Jason and Nathan have continued to grow the company by working with a network of individuals in the area, such as subcontractors and a popular landscape architect. The two divisions work together to provide high-end residential clientele with landscape construction, maintenance, irrigation, lighting, tree care, fertilization and pest-control services. With degrees from the Department of Agriculture from the Ohio State University, the two have grown the company to employee 44 people. By implementing new practices, such as adding Priuses as sales cars during the recession to save money, Jason and Nathan have created a lasting reputation in their community.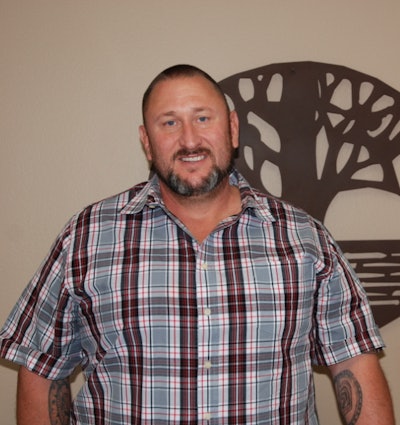 Greg Struhl, Chip-N-Dale's Custom Landscaping in Las Vegas, Nevada
A former baseball player, Greg Struhl is still as competitive as ever. After finding success in the automotive industry, Greg decided to move on and took over the struggling Chip-N-Dales Custom Landscaping in 1995. When he became the owner, the business was thousands in debt. But, he steadily grew Chip-N-Dales into a thriving Vegas business. Greg and his now 65-person staff did that by not only serving their customers, but also caring about their customers' neighbors. They give out flyers to neighbors saying they are sorry for any disruptions and to call the company if there are problems. They also make sure the streets and area stay clean – which has been a great way to attract new clients. This dedication to going above and beyond is also evident in Greg's projects. They are as memorable as his company's name. He offers design/build, maintenance, masonry, lighting, custom barbecues and water features services, which have won the company awards like the Best of Houzz.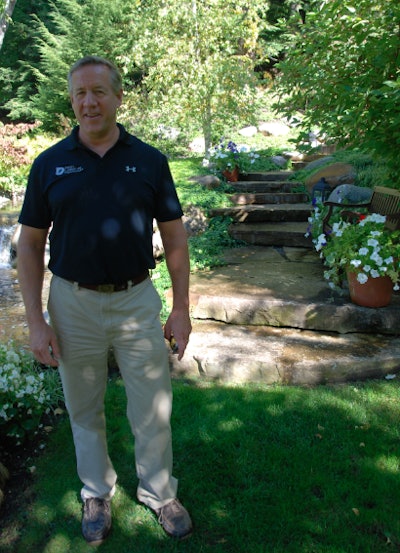 Robert Drost, Drost Landscape Design and Construction in Petoskey, Michigan
After 34 years in the landscape industry, Robert Drost has seen and done it all. But instead of resting on his company's success, he challenged himself to be even more innovative and creative with his projects. This led him to create a hot tub out of boulders – which now has become a signature project for him and his company. In addition to the unique hot tubs, Robert's company offers design/build, maintenance, irrigation, lighting and other construction services. And if a client has trouble getting a project approved by the township, Robert does whatever he can to get the issue resolved. Drost Landscape continues to grow each year, with a constantly expanding office space and team. The company has more than 80 employees, which include several high school and college students. Not only does he take care of his employees and clients, Robert also gives back to the community by participating in local garden clubs to raise money for the local hospitals, donating money for 4th of July events and helping with food pantries.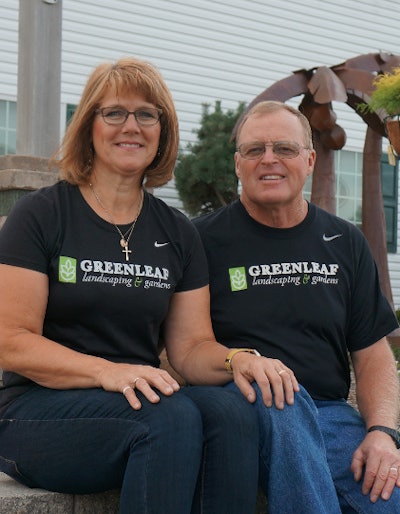 Ken and Dorene Schuster, Greenleaf Landscaping & Gardens in Greenleaf, Wisconsin
Family runs deep in Greenleaf Landscaping. Ken and Dorene Schuster took over from Ken's father in 1984, and now they have all three of their children working side by side with them. The couple took a leap of faith about nine years ago when they opened a garden center, but they say building the garden center – which now has a gift shop, outdoor plant and water feature display, along with housing their offices – has been an essential part of expanding their business. They offer maintenance, design/build, lighting and water feature services. Dorene also conducts seminars on a number of topics during the local home show and spends part of the Wisconsin winter writing gardening tip columns that the local newspaper will use between spring and fall. They also hold a yearly Sunset Garden Party, which includes live music, vendor tents and sales on plant and gift items. With about 25 employees, many of them seasonal, the Schusters promote teamwork with a "Hero of the Week" program.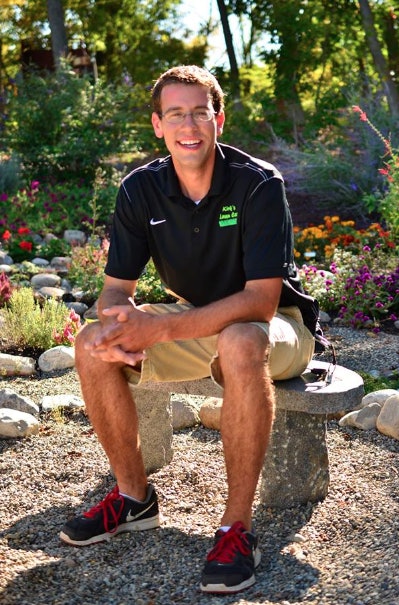 Kirk Brown, Kirk's Lawn Care in Spring City, Pennsylvania
Since starting his business in 2003 at the young age of 12, Kirk Brown always knew he wanted to be in the landscape industry. Today, Kirk has continued to double his revenue every year for the past few years. Kirk has more than 55 contracts for residential and commercial properties and has grown the business to offer mowing, aeration, overseeding, shrub trimming, snow plowing and more. From the beginning, one of Kirk's biggest assets has been his knowledge of marketing his brand through a variety of technology platforms. He runs his entire operation through sites like Jobber, his personal website, which is mobile friendly; a personal survey website, Sprout, his mobile app and many more. Kirk has created quite the name for himself by doing community service projects, giving Christmas presents to each of his clients, sending holiday cards, offering gift certificates and doing a quarterly newsletter. Through his innovation and determination, Kirk continues to grow his business.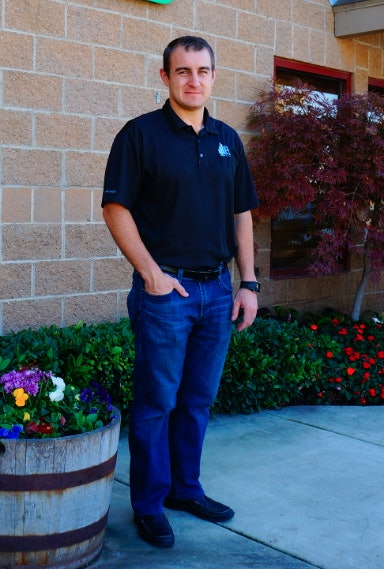 Rudy Larsen, Lawn Butler in Salt Lake City, Utah (Landscaper of the Year)
Starting with a hard-won $200,000 bank loan in 2007, Rudy Larsen's Lawn Butler today generates $8 million in annual revenue and employs 120 people. Recognized by Inc Magazine in both the Inc 5000 and 40 under 40 categories, Rudy handles a variety of projects including maintenance, irrigation projects and design/build for a range of commercial and residential clients. With the assistance of his operations manager, sales manager and finance manager, Rudy is able to provide the same level of service a small firm would be able to offer, including to the firm's more than 200 maintenance accounts. Even with a 300-percent growth rate during the past three years, Lawn Butler continues to provide superior service and give back to the community. The company takes on charity projects each year, including a $78,000 project for the area's VA hospital last year and sponsoring this year's "Battle of the Books" for a low-income elementary school. Rudy has also founded two additional companies – a general construction company and a water management company called Smart Rain. Through Smart Rain, Rudy's staff convinced the Central Water District of Utah to provide substantial installation rebates for water management systems. During the past two years, Smart Rain has saved 130 million gallons of fresh water for its customers – enough fresh water for 5,000 people for a full year.
RELATED: TLC Names Top Landscaper in the Country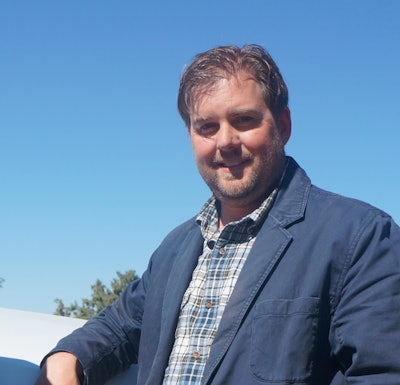 Mark G. Brotton, Living Water Irrigation and Landscape, Santa Fe, New Mexico
When Mark Brotton relocated to Santa Fe from Michigan, his career path changed. Although he'd owned a landscaping firm in Michigan, the complex desert ecosystem in Northern New Mexico represented a challenge. He recognized right away the need for low-water outdoor living spaces and founded Living Water in 2001. The firm handles a range of projects with a focus on water management, including landscape and irrigation design, installation, maintenance, consulting and project management. The company focused on new home development projects initially, however, as a result of the economic downturn, Mark was forced to downsize the company and redirect his efforts. Bringing his wife, Lisa, on board to manage the office side of the business saved the company, Mark says. The couple successfully weathered the recession and built Living Water into a small, but strong, firm with a valuable niche market.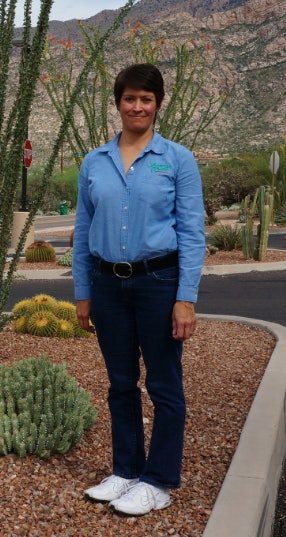 Deborah Munoz-Chacon, Sonoran Oasis, Tucson, Arizona
Working for a management company for more than a decade, Deborah Munoz-Chacon knew a thing or two about running a business. So, when the company was sold, she went out on her own and formed Sonoran Oasis in 2005. Although she began by taking on a range of clients, she has refined her niche to almost exclusively serve homeowners' associations. Deborah has used her business experience and quality work to compete with large and small landscape companies alike. To promote water conservation, she has even written a book on how to get the most out of your desert landscape, which she hands out in lieu of business cards. Deborah now serves as a mentor for other women in male-dominated industries, serving as a chairperson for the Minority and Women Business Enterprise Commission, a member of the planning committee for the YWCA and as a MicroMentor. She currently is working on developing an online training program for women interested in starting a business in the construction and landscaping industries.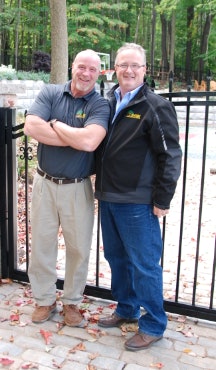 Tim and Thom O'Donnell, T. O'Donnell Landscaping in West Seneca, New York
For Tim O'Donnell and his team, it's all about exceeding expectations, from picking up trash in clients' yards to the overall quality of work. With three decades of industry experience under his belt, Tim offers design/build, maintenance, water features, lighting and fertilization services. His projects can easily be spotted around town because of his unique designs and attention to detail. With the harsh Buffalo winters limiting their season to about seven workable months, Tim developed a snow and ice management service to give the employees work year round. His brother, Thom, brings his business savvy and corporate experience to the company, really putting them ahead of their competition. The company budgets several thousand for community service projects and donations each year, and they also participate in community beautification efforts, give students paid seasonal internships and more. Bringing on designers who use digital software and taking tablets and other technology in the field has helped their clients visualize the projects before they even break ground – which has led to an increase in sales.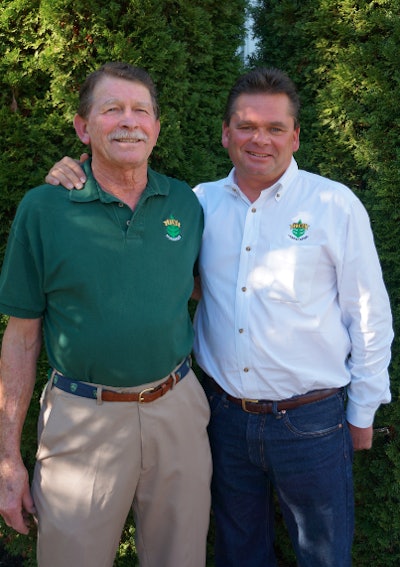 Richard and Russell Irvin, TDH Landscaping in Monkton, Maryland
TDH Landscaping will be celebrating its 50th year in business in 2015. TDH was established in 1965 by Harry Irvin along with his sons Dick (Richard) and Tom, hence the acronym TDH. For nearly 50 years the business has steadily grown, especially in the past 20 years under the direction of Dick's son, Russell. TDH Landscaping employs more than 50 people during peak season. TDH also takes advantage of the seasonal H-2B programs, with many of the employees returning for over 15 years. In 2015, TDH Landscaping will also offer a "Green Scholarship" to a graduating senior at a local high school named in Dick's honor. TDH Landscaping services include landscape maintenance, design/build, landscape lighting, water features, pools, erosion control and complete outdoor construction.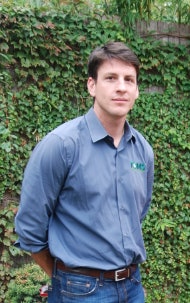 Tom Butchko, Tom's Outdoor Living in Tulsa, Oklahoma
To create the ultimate one-stop shop, Tom Butchko started Tom's Outdoor Living to offer his clients everything from maintenance and design/build to irrigation and lighting. In addition to landscaper services, the company also has a division, which is led by Tom's father, that builds wooden indoor and outdoor furniture. They've even used the trees from a customer's backyard to create them a table. Working in a small town, Tom's reputation is everything and is part of the reason for his success. Not only does he create stunning features, but Tom and his 18 employees have volunteered with Habitat for Humanity projects, revamped a baseball field and helped with a local garden that supports low-income families. "I can't recommend them highly enough," says client Carol Tandy. "Tom was very involved, and if I had any questions or issues, they took care of it. Communication was great, and customer service was fantastic."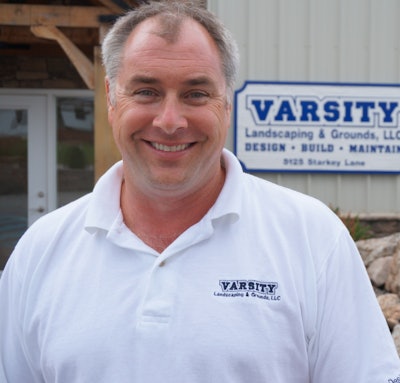 Michael Anderson, Varsity Landscaping & Grounds in Roanoke, Virginia
After 3 years at Virginia Tech University, with plans to pursue law school, Anderson realized he didn't want to be a lawyer. Instead, he wanted to pursue the landscape business he started as a side job to fund his schooling. Mike started Varsity Landscaping & Ground in 1993, and the company, which started with a Mitsubishi pickup truck, push mower and weed eater, has continued to grow to offer everything from landscape maintenance and fertilization to landscape lighting and retaining walls. The company prides itself in "thinking outside of the box," which includes installing a full demo area outside of its headquarters. Mike takes pride in his 20 employees by providing team-building activities and employee appreciation days. His team, which totals more than 200 years of combined experience, includes his two right-hand men – operations manager Justin Carr and landscape designer Jason Childress. The company continues to grow and gain recognition in the community by receiving numerous awards from local magazines and businesses. Anderson and his team have never strived to be a big company… only a great company.