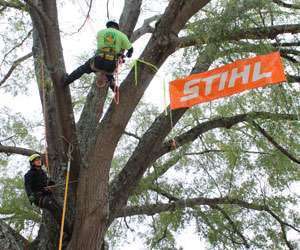 The TCI Expo has come to close, and organizers are saying it has been another successful year.
The tradeshow and conference was held at the Connecticut Convention Center in Hartford, and a record-number of 3265 tree care workers from across the world attended.
Attendees took advantage of business, safety and arboriculture workshops and seminars.
Additionally, attendees were able to watch professional tree climbers ascend a 30-foot tree, network with other tree care professionals, and compare equipment and evaluate projects.
More than 200 exhibitors took part in the show to showcase the latest products and services in the industry.
The TCIA member raffles winners include:
Sandra Crawford of Crawford Tree Service, LLC (member since 2007) won the TCIA Pro Arborist Series.
Robert Brettschneider, CTSP of Boutte Tree, Inc. (members since 2006) won a Samsung Galaxy Tab S.
Shana Clarke of Van Yahres Tree Company, Inc. (members since 1965) won an Apple iPad.
In addition to the tradeshow and conference, the expo hosted a Student Career Days event, which drew a record-number of college and high school tree care students from around the country.
Approximately 400 students participated in tree climbing competitions, educational seminars, workshops, and a job and internship fair.
The 2015 TCI Expo will take place Nov. 12-14, 2015 in Pittsburgh, Pennsylvania.