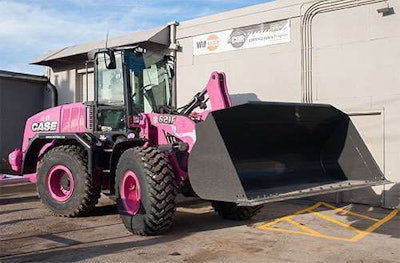 Wintec Building Services in Winnipeg, Manitoba is making people look twice.
The company recently purchased a pink Case Construction Equipment 621F wheel loader.
The loader is the first of its kind to be produced by Case's Fargo, North Dakota plant and will be used to help with the snow removal of the city's roads.
Ten percent of the profits generated from the custom-ordered loader will be contributed to the Canadian Breast Cancer Foundation – Prairies/NWT region.
The idea for the loader started when Doug Huselak, general manager of Wintec, lost his aunt to breast cancer. He decided to approach the foundation about participating in a larger-than-usual donation.
Huselak and the Canadian Breast Cancer Foundation worked together to come up with the idea for the bright pink loader.
In order to move forward with their plan, Wintec worked with their local dealer, Hitrac.
The partnership between the foundation and Wintec also brings awareness to breast cancer in men. In fact, according to the American Cancer Society, 2,360 new cases of intensive breast cancer will be diagnosed in men in 2014.