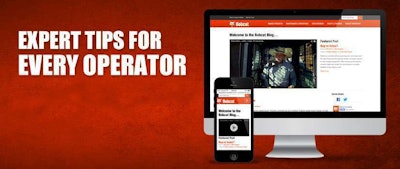 To help industry professionals get more information, the Bobcat Company has launched the Bobcat Blog.
The blog will feature industry experts, other individuals with the company and occasional guest bloggers to provide perspective on Bobcat products and their applications, markets, customers' business and lifestyles, and promotions and events.
Bobcat Blog topics will include tips on equipment selection, operation, maintenance and safety; economic forecasts and general state of the industry; finding employees, marketing a business and maximizing profitability; getting the most out of equipment and attachments around acreages and farms; and details on contests and other customer-engaging activities offered by Bobcat Company and its dealer network.
Posts will be designed to appeal to all common compact equipment industries: construction, compact equipment rental, landscaping, agriculture, buildings and grounds and personal property maintenance.