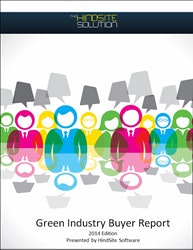 HindSite Software will be hosting a webinar designed to help green industry professionals better understand the results of recent market research.
Scheduled for Dec. 15 from 1 to 2 p.m. CST, the webinar, 10 Lessons from the Green Industry Benchmark Report, will deliver the results of a recent survey of more than 300 buyers of green industry services.
The webinar will use data from the recently released 2014 Green Industry Buyer Report to help green industry contractors better understand their buyers.
Among the lessons attendees will learn include:
Why understanding your target audience is vitally important to a business' sales success
Why understanding your buyer can help you be more successful on social media
Why email is vital to successfully communicating with buyers
The 2014 Green Industry Buyer Report was created after a month-long survey of hundreds of green industry buyers. The survey was designed to help green industry businesses understand buyer motivations, demographics, communication preferences, social media usage and more.