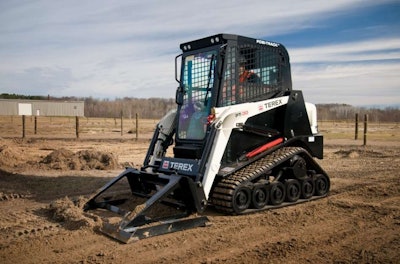 Compact loaders are great for getting work done on the jobsite, and they are even more efficient when paired with the right attachment.
Here are five of the top attachments landscapers can use with their loaders, according to Gregg Warfel, Terex Construction Americas.
1. Augers. They offer landscapers a quick and efficient way to dig holes in the soil with speed and accuracy. Augers are most often used to dig holes for fence posts, as well as for planting trees, large bushes and shrubs.
2. Land Levelers. Landscapers use these attachments to shape soil, spread and level material, backfill trenches, remove existing sod and grade existing terrain. The angled grade blades on the front and rear of the attachment allow operators to level efficiently moving in forward and reverse.
3. Multipurpose. Also known as 4-in-1, these buckets enable compact loader operators to dig, load, grab, doze and level with one attachment. These buckets are often used in landscaping projects to shape soil and pick-and-place rock and other objects into a landscape feature, as well as to shape soil for proper drainage.
4. Rake. Power box, or Harley, rake attachments can be used to grade, shape, plow, restore trenches, windrow debris, aerate and dry soil, recondition turf and prepare seed beds. Removable and reversible end plates give operators the flexibility to box rake or windrow, and the front tires mounted on swivel casters can be adjusted for height and length.
5. Trenchers. These attachments can dig trenches while efficiently placing the spoil material in a windrow along the trench. Trenchers are most often used by landscapers to run irrigation lines and underground utilities.