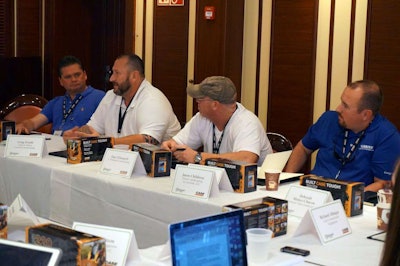 No matter where you go, the question always comes up, "Do you think the recession is over?"
Depending on the party you are talking to, that answer will always be different.
However, the answer was pretty clear during Total Landscape Care's roundtable discussion with 12 Landscaper of the Year finalists – the landscaping industry seems to be making a full recovery since the recession initially hit in 2008.
Ken Schuster with Greenleaf Landscaping says his area in Greenleaf, Wisconsin is seeing a great deal of growth. "The homebuilding is back on track, and we're not going to get everything finished that's on our schedule this year before the winter hits, so we have a pretty good backlog of work," Schuster says. "I would say there's probably 30 to 40 projects on for 2015 already, so it just seems to be booming."
The same goes for the Santé Fe area where Mark Brotton runs Living Water Irrigation and Landscape. "I think the biggest indicator for me is I've had a lot of second homeowners there that I've maintained for over seven years, and they're dropping $30, $40 and $50,000 now on upgrades and remodels that I've been asking them to do for years," Brotton says.
Many of Brotton's clients are from out of town and are investing in outdoor kitchens and large projects to extend an outdoor living space. "I try to bring in other rooms of their landscape and try to separate their outdoors into rooms," Brotton says. "It could be hardscape projects or a water feature or something that we're adding, and they're ready to do that this year."
RELATED: Meet TLC's Landscaper of the Year finalists
The Utah area also seems to be making a comeback, according to the 2015 Landscaper of the Year Rudy Larsen with Lawn Butler. "We've seen some pretty good success in Utah," Larsen says. "We've been able to sustain about an 80 percent growth every year, but the new install market has been a little lean.
"We've seen the housing market really pick up the last couple years, and now historically, you ought to see the housing go first, then commercial follow. We're seeing the commercial market pick up this year. We normally do about a couple million dollars in commercial backlog that we hit about February and March."
However, the company has already hit that number for next year, so the company is running at full capacity when it comes to commercial accounts moving into 2015. Now, Larsen and his team will focus on residential or high-end clientele to get the new jobs the company wants.
The East Coast is also experiencing the same growth.
Russ Irvin with TDH Landscaping in Monkton, Maryland, says his business tends to follow the stock market, as well as the housing market. "Since 2009-10, it's really been climbing back up to where we were, and 2014 was awesome," Irvin says. "We just had a fantastic year, and I don't think we could have done any more work without major change in our structure. In 2015, we're really starting to think about growth for our company. Placing trucks, upgrading, getting back on track to where we were prior to the economy crash."
Tim O'Donnell with T. O'Donnell Landscaping in West Seneca, New York says his company is up about 38 percent in revenues. "We're focusing on qualifying new customers and getting out to people that are second homebuilders," O'Donnell says.
"I would say there's probably 30 to 40 projects on for 2015 already, so it just seems to be booming."
In addition to acquiring its lighting subcontractor, the company is continuing to fine tune to get the net profit where it needs to be. "People are spending money more than they were back in '09, '10 and '11," O'Donnell adds.
Some companies are turning their attention to renovation rather than large projects like Deborah Munoz-Chacon with Sonoran Oasis Landscaping in Tucson, Arizona.
"For us, and the type of clients that we deal with, they're doing a lot more renovation work this year," Munoz-Chacon says. "So things that they had put off, they're starting to do more of that this year, and we do a lot of changing out from lawn areas to xeriscape."
For Munoz-Chacon and her company, the clients are coming around to understanding how to make a landscape work in a desert environment. "They're wanting to go in, take the lawn out and improve an area to make it more desertscape," she says. "Before, you'd see a Mediterranean look in a homeowner's association or a larger commercial project, and they're getting away from that and starting to understand the value of using the style that's in the desert already."
Jason Childress with Varsity Landscaping in Roanoke, Virginia, says he believes clients are just tired of pinching pennies.
"It's been six years since the economy went south, and I think the economy's recovering, the stock market's going up, and like what Mark was saying, people have been thinking about these projects for a long time," Childress says. "Now, they're finally saying, 'Enough is enough. We're going to do it.' The world didn't end when the economy crashed, so people are kind of ready to move on."