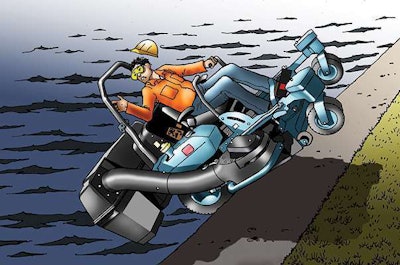 The Accident: A lawn maintenance employee is operating a ZTR mower to mulch leaves. When the bag is full on the mower, he rides the mower 20 feet to a levee to dump the bag of leaves. He is backing up near the edge of the levee when the mower slides 10 to 15 feet into the river. The employee drowns.
The Bottom Line: Do not mow near drop-offs, ditches, embankments or steep slopes. The wheels on the mower and attachments can drop off or slide over the edge. Instead, use a walk-behind mower or string trimmer to cut grass in these locations.
Here are other safe mower operation tips when working around slopes or embankments.
Don't make sharp turns at high speeds, especially on a hill. Also avoid abrupt starts and stops.
Keep the heavy end uphill to avoid a rollover.
Mow up and down slopes — not across — with riding mowers. For walk-behind mowers, mow across slopes.
Before mowing, look at the area that will be mowed to note elevation changes or other obstacles. Tall grass can hide obstacles.
Read and follow directions in the equipment operator's manual. Know the maximum slope the equipment can safely be operated.
Wear the proper personal protective equipment (PPE) when operating mowers: close-fitting clothes, no jewelry, long pants, non-slip boots, safety glasses and hearing protection.
Perform safety inspections before operating the mower, including checking for loose or damaged belts, looking for fluid leaks, checking blades and cleaning the mower deck.
Read more Safety Watch articles.