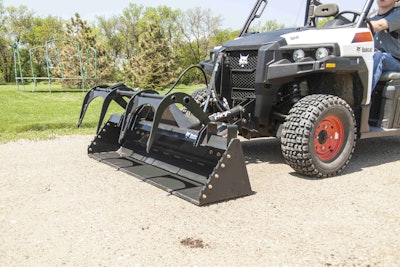 Moving materials just got easier with Bobcat's 42.5-inch grapple attachment for the 3650 utility vehicles.
The grapple is bolted to the 62-inch utility vehicle bucket to grab, lift and move various types of materials.
Featuring a bucket-style look, the grapple's tines grip can hold large items, while small loose materials fall into the bucket.
The joystick control on the vehicle allows operators to use the grapple to grasp and close in on objects. Reinforced tines hold material for a strong grip.
The grapple is the eighth addition to the attachment lineup for the Bobcat 3650.
Additional utility vehicle attachments include the following: angle broom, buckets, mower, pallet fork, snow blade, snow blower and sprayer. With the exception of the sprayer, which is mounted in the cargo box, 3650 utility vehicle owners connect these attachments to the vehicle with the Multi-Attachment X-Change system.
QuickLook:
Overall width: 42.5 in. (1,0 m)
Overall depth: 23.5 in. (0,6 m)
Open height of grapple: 28.9 in. (0,7 m)
Closed height of grapple: 19 in. (0,5 m)
Maximum opening of grapple: 20.4 in. (0,5 m)
Weight with bucket: 199 lb. (90 kg)