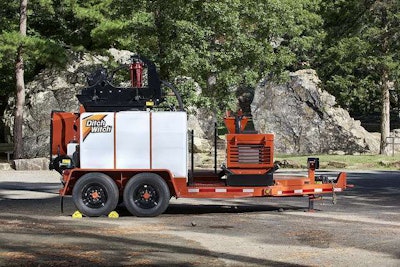 To help keep jobsites cleaner, Ditch Witch has released the MR90 mud recycler, a self-contained unit that can mix and recycle drilling fluid or "mud" and handle spoils.
The MR90 can be transported full of fluid, which can help cut down on costs for landscapers.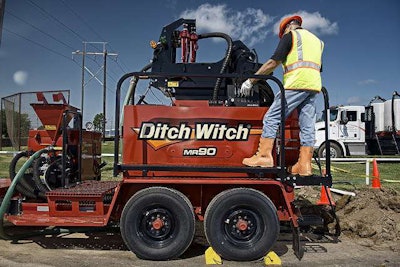 The 25-horsepower machine is equipped with a hydraulic pit pump that provides more than enough mud for recycling.
Pump hydraulics can be controlled by an optional remote control, which can help simplify operation for smaller directional drill crews.
Additionally, the machine features an automatic pit pump control designed to prevent overflow.
The unit plus its optional, 14,000-GVWR trailer may be pulled by some ¾-ton trucks. The trailer features tool storage that holds all operational components.
The MR90 is equipped with a 110-gallon (416-L) clean tank and a 340-gallon (1287-L) first-pass mud tank. Each tank has a 3-inch (7.6-cm) connection at the drain for vacuuming out mud, to minimize jobsite cleanup.
The MR90 also includes a 300-gallon (1136-L) fresh water tank to provide extra drilling fluid capacity and support for equipment cleanup, along with a high-pressure wash pump.
The machine's mud-filtering system is a two-screen system with six 2.5-inch hydrocyclones that cleans mud for reuse. The screens can be hydraulically adjusted to separate spoils.