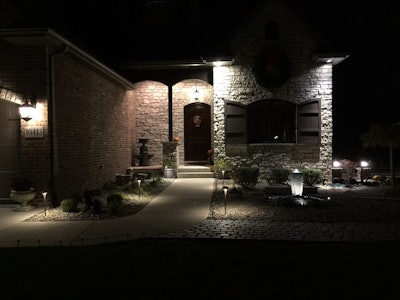 Midwest Landscape Specialists gave one Indiana client an entire landscape makeover.
From a 1,500-square-foot patio to a Rosetta Stone waterfall, Midwest covered the full gamut.
The patio is made of Unilock Umbriano Winter Marvel with Unilock Courtstone Basalt solider intertwined with 600-square-foot walkways made out of Unilock Courtstone Dawn Mist and Pebble Taupe mix.
The patio complements a retaining wall and stairs built from Unilock Quarry Wall Sierra color with a Brussels Full Nose coping Rosetta Outcropping Stone waterfall, which includes 60- by 5-feet high pumps that push 10,000 gallons of water an hour.
A gas fireplace, built from Unilock Quarry Wall Sierra with a Ledgestone coping, features glass stone, and the firepit pushes out 240,000 BTUs.
As for the front of the property, the company used an Aquascapes water vase with LED Cast Lighting. There are more than 25 LED light installed throughout the property.
"One of my favorite features is the customer has a universal remote with everything programmed on it," says Shawn OKeefe, president, Midwest Landscape Specialists. "At a touch of a button, the customer can turn on their jumping jets on their pool, turn on and off their waterfall, turn on and off all their lighting and control their firepit."
One of the biggest challenges for the company was trying to coordinate keeping track of the gas lines, drainage pipes and channels, and electrical wires throughout the property.
"We had to be very strategic in the process in which everything was done to make sure we didn't get ahead of ourselves and install something before wires were ran," OKeefe says.
From start to finish, the project took about six and half weeks. However, Midwest will be back in the spring to build a custom pergola, as well as an additional patio/bar area that will incorporate a top dining and water feature.
Project: St. John, Indiana
Landscaping: Midwest Landscape Specialists, St. John, Indiana
Want your project to be featured on TLC? Email photos and information to pattyvaughan@randallreilly.com.