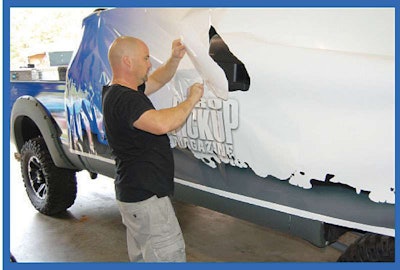 Landscaping companies are always trying to figure out the best way to gain more business in the competitive industry.
One advertising avenue is using the company's own vehicles as rolling billboards.
Using vinyl vehicle wraps is one solution, but doing so effectively takes care and creativity to get the most out of the investment.
JMR Graphics says owners thinking about using vinyl vehicle wraps to promote their businesses this year need to avoid these four mistakes:
1. Putting too much information on the graphic.
Adding the company name, logo and tagline to the vinyl wrapping is essential. Other than that, businesses should be selective about what they include on the graphic. A busy graphic could motivate potential customers to look away. The best approach is to be simple yet concise and creative, providing viewers only with the essential information.
2. Picking colors that do not go together.
Choosing the wrong colors is another way to turn viewers away. The only exception to this rule is when the business is known for its bright, loud colors. For example, a food truck can benefit from unconventional colors, because they help people recognize the business and make the truck stand out from the competition.
3. Attempting to design the graphic without professional guidance.
The third mistake is rushing through the design process without consulting a professional. Experienced designers can help you avoid common pitfalls and ensure the graphic appeals to your direct audience.
4. Being unprepared for the design stage.
When you discuss your goals with the designer, there are some items you should have at your fingertips. In addition to bringing your logo, slogan and color ideas, you also need to provide the make, model, year and color of the vehicles. It is also helpful to provide the serial numbers.