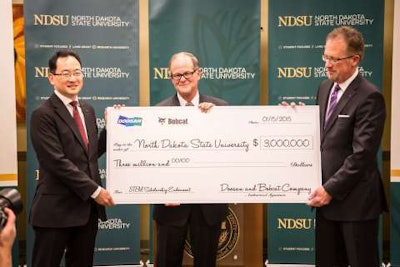 Doosan and Bobcat Company are focusing their attention on North Dakota State University (NDSU).
The companies donated $3 million to the school to fund a STEM-related scholarship program.
The State of North Dakota will match the donation, adding $1.5 million. The combined gift will total $4.5 million, which is the largest gift to establish a scholarship endowment in NDSU history.
NDSU President Dean Bresciani and Doosan Group Chairman YM Park signed the formal agreement. Scott Park, president and CEO of Doosan Infracore Bobcat Holdings Co. and Rich Goldsbury, president of Doosan and Bobcat Company, North America and Oceania, were also present. Chairman YM Park traveled to Fargo for the ceremonial signing from Seoul, South Korea. YM Park is also chairman of the Korea Chamber of Commerce and Industry.
When fully funded, the endowment will distribute approximately $180,000 in scholarships per year in perpetuity.
STEM programs focus on science, technology, engineering and mathematics. Some scholarship distribution will start this year as endowment funding begins.
The current Doosan and Bobcat gift, paired with the State-matched funds, is the result of the Education Challenge Fund, a "two-for-one" scholarship match program approved by the North Dakota State Legislature in 2013. "Dedicated to the advancement of academics," it covers donations made to approved North Dakota institutions for scholarship endowment.