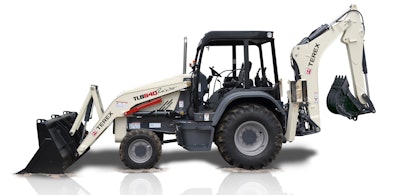 The TLB840R backhoe loader from Terex is now available for rental.
The TLB840R is equipped with a 74-horsepower, Tier 4 final four-cyclinder Deutz electronic fuel injection diesel engine, a four-speed synchro shuttle transmission and a hydraulic system to excel at digging, reaching, lifting and loading tasks.
The engine, transmission and hydraulic systems have all been designed for maintenance by rental company technicians and mechanics.
The machine features a bucket breakout force of 9,441 foot-pounds and a loader lift capacity of 7,291 foot-pounds, as well as a bucket capacity of 1 cubic yard.
Additionally, the machine offers a curved boom design and up to 13 feet, 5 inches of loading height (with an extendable stick).
This backhoe loader comes standard with four-wheel drive, tilt steering wheel, suspension seat and selectable pattern change pilot controls. It can be ordered with either a canopy or fully enclosed cab that includes heat and A/C, as well as a choice of a standard or extendable dipperstick.