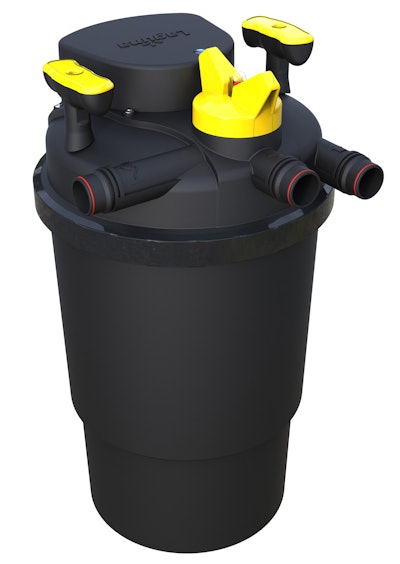 To help keep ponds looking pristine, Laguna has redesigned its series of Pressure Flo Filters.
The high-pressure, 1,000-4,000-gallon UV filters are designed to clean ponds.
The redesigned filters include improved UV bulbs (13 to 36 watts) to help kill algae and eliminate green water. An LED indicator shows when the lamp is running.
The Pressure Flo 2000-4000 models also include upgraded biological media (BioLava) to improve biological filtration.
The porous surface of the BioLava rocks promotes the growth of beneficial bacteria.
Additionally, the filters now include mechanical filtering foams, and the cleaning handles and valve diverter were redesigned to be more durable.
The UV head now features fastening screws permanently attached to the unit for maintenance.
The system works in tandem with a solid handling pump, which removes solid waste.
During the mechanical filtration stage, water is collected into the filter with a pressurized vortex where foam filters intercept and trap dirt and debris.
This dirt-free water then passes along an integrated UV-C lamp, where it is exposed to ultraviolet rays that inhibit the growth of single-celled algae organisms.
There is also a Backwash-Cleaning system that cleans the surface of the foam filters, and an indicator light tells when the filter needs clearing.