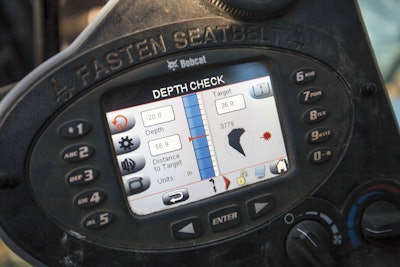 Bobcat compact excavator owners can now monitor operations better with the introduction of the Bobcat Depth Check system option, a grade control system.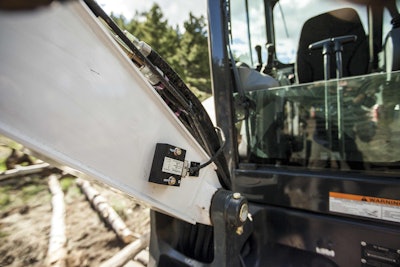 The system is available for E32, E32i, E35, E35i, E42, E45, E50 and E55 models, with either standard or long-arm iterations.
The system is a kit that uses three sensors – one on the trenching or grading bucket, one on the arm and one on the boom – that are connected to the instrument panel inside the cab to track location of the bucket teeth as the bucket, boom and arm move.
The system can be calibrated to a specific machine as well as its corresponding attachments — up to five buckets — using the excavator's boom and arm length, as well as a bucket tooth radius.
Additionally, the system has an accuracy of plus or minus .5 inches to help prevent operators from stopping the machine to measure depth.
Operators access the system screen in the instrument panel's menu bar, and choose from multiple methods for using the system.
They can dig to the desired depth, bench off the grade point with the target depth set to zero
Bench off a grade post that is within reach, with the target depth set to the desired grade
Set the depth target at minimum cover value, then bench off the adjacent soil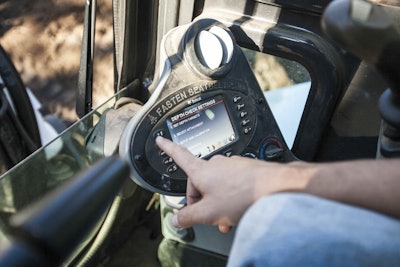 An alert can be turned on and off to help indicate how close the operators is to the target. A slow beep will sound when the operator approaches the target depth, a tone will occur at target depth and a fast beep will let the operator know if he or she is beyond the target depth.
The system is laser-compatible and can be operated with a basic laser system.
Two system laser receivers are available – the CR600 and the BLR2.
The CR600 basic laser is not tied to the system, but it visually aligns the receiver with the beacon signal. The BLR2 receiver is available as an upgrade and is connected to the system harness. It can catch the beacon signal as it passes through the beam.