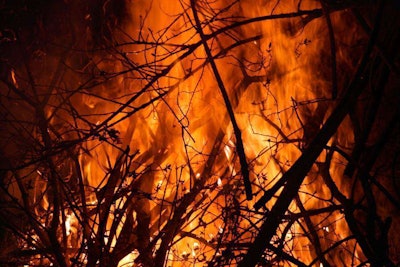 It's never too early to prepare for firescaping, especially in temperate states like Florida and California. Maybe you're thinking about adding firescaping to your service offerings this year?
By reducing the chance of fire and remembering safety tips, you're ensuring the safety of your customers' homes and businesses, as well as your landscaping projects.
While no plant is fireproof, here are some fire-resistant plants to add to your inventory.
Elephant's Food (Portulacaria afra)
Pork and Beans (Sedum rubrotinctum)
Century Plant (Agave Americana)
Live oaks, especially California or coastal oak as well as stone fruit and citrus trees
Here are firescaping tips from Colorado State University, California's Department of Fire and Forestry Protection, and U.S. Fish and Wildlife Services.
Keep tree crowns at least 10 feet apart & trim bottom branches to six feet from the ground.
Stay lean, green and clean. Utilize low-growing plants in your projects.
Plant the following at least 30 feet because of flammability: cypress, juniper, eucalyptus, ornamental plants, berries, and other resinous plants.
Keep plants, bark and mulch hydrated, especially during high temps.
Check with the local fire department's ordinances.