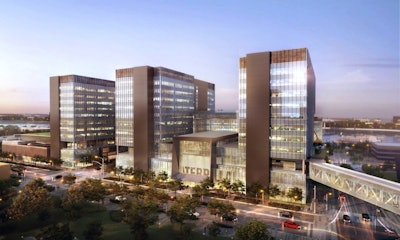 Caterpillar will make major changes to the Peoria, Illinois skyline with the construction of a three-tower company headquarters building along the city's riverfront.
The plans are the result of a multi-year study with the aim of creating a more modern headquarters for the company, which has occupied the same downtown Peoria high-rise since 1967. In that time, the company's sales and revenues have grown from $1.5 billion to $55 billion in 2014.
Cat signed on with Gensler Architecture, Design & Planning and Farnsworth Group for the design of the new complex. Chicago-based Turner Corporation will handle construction. The company did not detail how much the new campus will cost. Construction will not begin this year but will be a multi-year, multi-phase project.
Each of the HQ's three towers will be eight stories, and the new 31-acre Cat campus will occupy six city blocks. It's designed to accommodate 3,200 employees. Those employees will have amenities like outdoor work spaces, fitness spaces and childcare services.
The new campus will integrate green space and walking/biking paths, along with food and retail options for residents.
The towers will be connected by a three-story office building with an exterior design wrapped in a yellow iron-like facade that Cat says invokes the high drive design of its D11 dozer.
The campus will also feature an energy center utilizing Cat products to support electrical, heating and cooling demands. There will be a display of Cat equipment across the street from the company's visitors center.
Editor's Note: Wayne Grayson is the online editor for sister magazine Equipment World